We are open to Y10/12 students for small group teaching on a rota basis from Monday 22nd June. We remain open to Key Worker and Vulnerable students.
Gifted & Talented Provision in History
History
Events
British Museum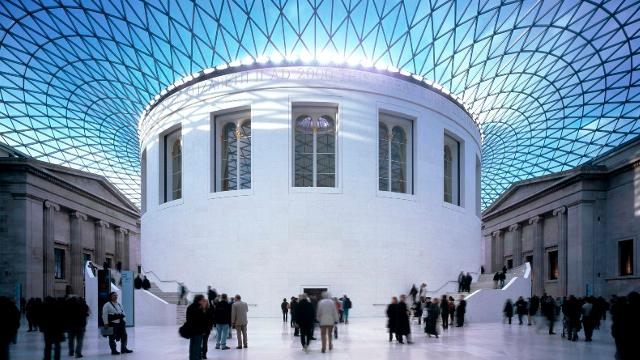 Following our successful completion of Reading Rations challenge we took a group of 25 students to the British Museum to experience History at a more interactive level. The pupils found the oldest object (a stone age axe head that was over 2.6 million years old) and some found the weirdest object which was any thing from a Japanese sculpture to a tapestry of all the medicines an average adults takes int heir lifetime. The pupils gained a lot from the experience and asked many questions about what they had seen both from teachers and the experts at the museum itself. The trip will hopefully run again next year for the successful candidates on our reading rations programme (see below).
Legacy 110
The British Government has offered the opportunity for two pupils from each school to join a trip to the Battlefields in Belgium as part of the centenary commemorations of World War One. We offered the opportunity to the entire school but feel the candidates that were chosen provided such brilliant applications that this should indeed be part of our Gifted and Talented provision.
The Pupils selected will leave in September for an all expenses paid tour of the Ypres Salient and Somme region culminating in a trip to Tyne Cot cemetery, the largest British cemetery in Belgium.
The aim of 'Legacy 110' is for every participating student to create an enduring legacy by impacting upon at least 110 people within their local community. If we achieve this then the total number of people reached by 2019 will equal 888,246, which is equivalent to the number of British and Commonwealth soldiers who fell during the First World War.
At this point our Legacy is still in the pipeline but the hope is to provide assemblies in our feeder schools and then to lay a wreath at the remembrance day service in Bingham.
G&T in History
Identification
MIDYIS scores
KS3 Tier exams
KS3 assessments
KS4 Coursework grades
KS4 tests
Pupil AFL assessments
Teacher assessment
Homework projects
A G&T historian will:
Have significant historical knowledge eg. Good general and chronological knowledge
Have an excellent level of historical understanding eg. Great historical explanation and identifying patterns in their studies in history
Have advanced enquiry skills eg. Be able to find their own enquiry and follow this through
Provision:
KS5 library
KS3 and 4 will be encouraged to look at the books in the library, reading lists
Homework projects to encourage independent learning
Differentiated tasks and groups in lessons
Presentations
KS3 reading ration book with (hopefully) reward trip to follow.
Reading List
Below are the reading lists for all GnT pupils which will enable them to read/watch around the subject and gain a broader understanding of the context surrounding our studies in class.
KS3
Reading Ration Card. Each GnT pupil in History will be given a Reading Ration card. They can then go away and throughout the year read/watch or visit anything/anywhere from the list below. If they complete a book or a documentary they can then come and discuss this with their History teacher or Mr Law, GnT co-ordinator. Once they have discussed this book or documentary they will be given a stamp. Once they have completed their ration book they will be put forward for a prize.
Year 7
Any Horrible History or any visit to the British Museum will count towards your ration card. If you go somewhere other than the ones listed below please tell me if they were good and I'll add them to the list.
Medieval
Tudor
Susan Cooper, The King of Shadows
Shakespeare's sonnets
Nottingham Castle
Year 8
Empire
Slavery
12 years a Slave, Soloman Northup
World War 1
Michael Morpurgo, Private Peaceful/War Horse
Local War Memorial
World War 2
Goodnight Mr Tom, Michelle Magorian
Grey Wolves, Robert Muchamore
Cold War
Holocaust
Marcus Zusak, The Book Thief
Anne Frank, Anne Frank's Diary
Morris Gleitzman, Once
The Boy in the Striped Pyjamas, John Boyne
KS4
Throughout KS4 revision is key to continuing achievment and our GnT pupils should re-read their lessons and read around their subjects to aid their continuing development in History
Year 9
Medicine
Year 10
Germany
Robert Harris, Fatherland
Your revision guides
Year 11
Terrorism
Revision
KS5
It is expected for all KS5 pupils to read around their subject and this is even more appropriate for the GnT pupils taking History.
Year 12
Any books in the History Library!

BBC History podcast
Any newspaper articles
French Rev
A brief introduction to the French Revolution
Vietnam
Year 13
July 2020
| M | T | W | T | F | WE |
| --- | --- | --- | --- | --- | --- |
| | | 1 | 2 | 3 | 4 |
| 6 | 7 | 8 | 9 | 10 | 11 |
| 13 | 14 | 15 | 16 | 17 | 18 |
| 20 | 21 | 22 | 23 | 24 | 25 |
| 27 | 28 | 29 | 30 | 31 | |
Gifted & Talented News
Dr Andy Clayton and Dr Jenny Clayton
Our students have been lucky enough to hear about the working life of two doctors this half term. (13/02/2020)
Chinese Exchange
Toot Hill School meets Cixi Experimental High School (12/07/2019)
Lectures
Dr. Simon Paine visits Toot Hill School to give students an insight into the brain (04/06/2019)