Latest News
Latest News
New November Display (2017)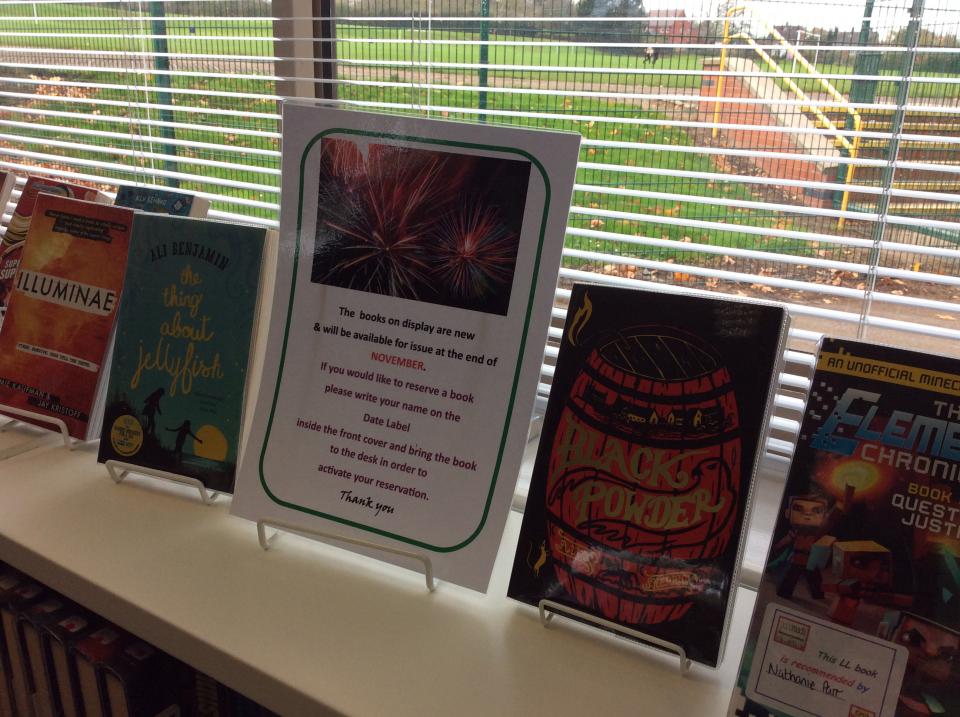 Our new November Display is ready! We have loads of new books ready for you to reserve.
During this month make sure you visit the Learning Lounge as we have new books available! From Ally Sherrick's 'Black Powder', to Ali Benjamin's 'The thing about jellyfish'. We also have lots of brand new titles recommended by you like Tsugumi Ohba's 'Deathnote Vol 2' and Saffron Barker's 'My perfectly filtered life'.
So reserve a fabulous book today!
Spotlight Books:
'The thing about jellyfish' by Ali Benjamin
Suzy is twelve when her best friend, Franny, drowns one summer at the beach. It takes two days for the news to reach Suzy, and it's not something that she can accept: Franny has always been a strong swimmer, from the day they met in swim class when they were just five. How can someone all of a sudden, just no longer be there?
'Black Powder' by Ally Sherrick
England, 1605. 12-year-old Tom must save his father from hanging. He falls in with a mysterious stranger - the Falcon - who promises to help him in exchange for his service. But on the long journey to London, Tom discovers the Falcon's true mission - and a plot to blow up Parliament with barrels of black powder. Tom faces a terrible decision: secure his father's release, or stop the assassination of the king ..
'Quest for Justice' by Sean Fay Wolfe
Dark forces are at work on the Elementia server, and when new players Stan, Kat and Charlie arrive on the scene, they quickly find themselves in peril. Targeted by more experienced players, the noobs must band together against the King, battle the natural forces of the game, and unravel the mysteries of Elementia in the name of justice.​
October 2018
| M | T | W | T | F | WE |
| --- | --- | --- | --- | --- | --- |
| 1 | 2 | 3 | 4 | 5 | 6 |
| 8 | 9 | 10 | 11 | 12 | 13 |
| 15 | 16 | 17 | 18 | 19 | 20 |
| 22 | 23 | 24 | 25 | 26 | 27 |
| 29 | 30 | 31 | | | |