Latest News
Latest News
New March Display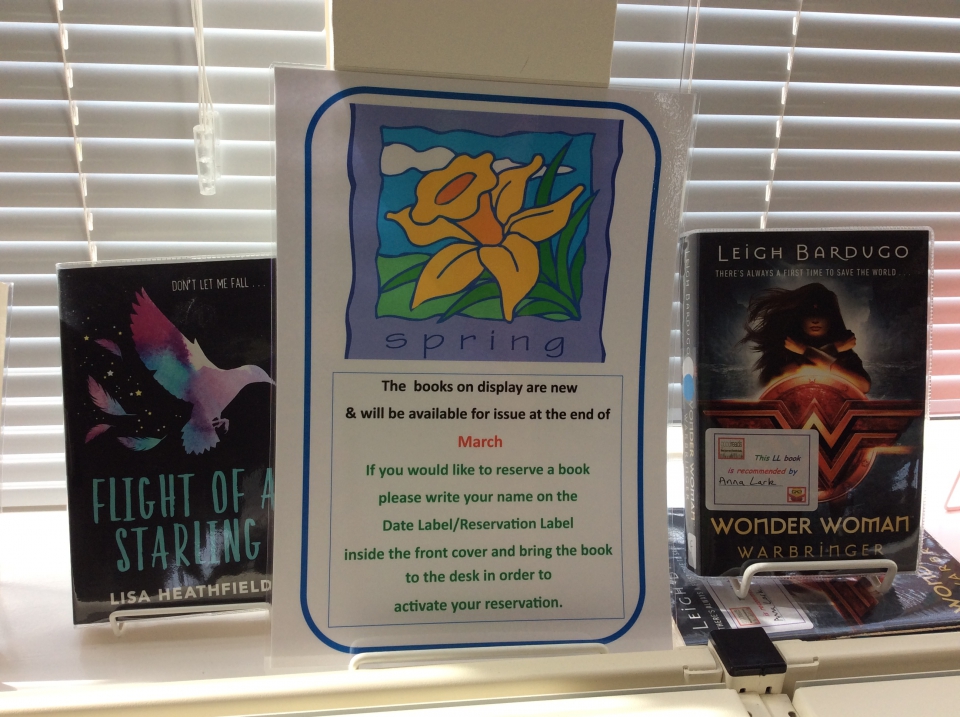 New month, new books!
All new solo books including 'Ariadnis', 'Wonder Woman' and 'Flight of a Starling.'
Great new non-fiction books, learn something new in 'What is Gender?' and 'Trans-Mission'.
Where will March's book display take you?
Spotlight Books:
Flight of a Starling by Lisa Heathfield
Rita and Lo, sisters and best friends, have spent their lives on the wing – flying through the air in their trapeze act, never staying in one place for long. Behind the greasepaint and the glitter, they know that the true magic is the family they travel with.

Until Lo meets a boy. Suddenly, she wants nothing more than to stay still. And as secrets start to tear apart the close-knit circus community, how far will Lo go to keep her feet on the ground?
The Disappearances by Emily Bain-Murphy
Every seven years something disappears in the remote town of Sterling: people's reflections, the stars in the sky, the ability to dream. Aila realises that her mother may be to blame for the curse. But some mysteries are buried very deep and some secrets want to stay hidden - and one young woman's desire to uncover the truth may not be enough to save Sterling from the past.
The Hate you Give by Angie Thomas
Sixteen-year-old Starr lives in two worlds: the poor neighbourhood where she was born and raised and her posh high school in the suburbs. The uneasy balance between them is shattered when Starr is the only witness to the fatal shooting of her unarmed best friend, Khalil, by a police officer. Now what Starr says could destroy her community. It could also get her killed.
December 2018
| M | T | W | T | F | WE |
| --- | --- | --- | --- | --- | --- |
| | | | | | 1 |
| 3 | 4 | 5 | 6 | 7 | 8 |
| 10 | 11 | 12 | 13 | 14 | 15 |
| 17 | 18 | 19 | 20 | 21 | 22 |
| 24 | 25 | 26 | 27 | 28 | 29 |
| 31 | | | | | |