Latest News
Latest News
Carnegie Awards: Shortlisted Books 2018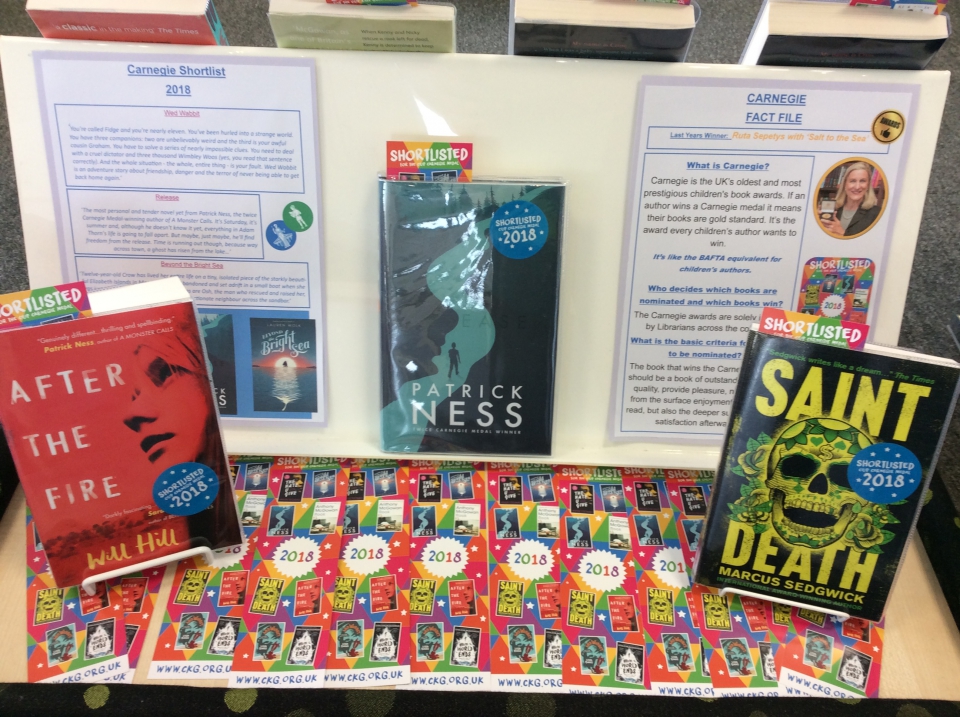 The Carnegie awards are underway! The shortlisted books are all available to take out today from the Learning Lounge. All these books have been chosen to win the Carnegie Medal. However, before there can be a winner they need to be voted for. All the shortlisted books can be found on our Carnegie display, along with a free Carnegie bookmark. Be sure to take one out today and then place your vote on our Carnegie Shadowing page -> http://www.carnegiegreenaway.org.uk/grouphomepages/index.php?GroupID=11643 we would love to hear your thoughts on the books.
In the Spotlight:
After the Fire By Will Hill
The things I've seen are burned into me, like scars that refuse to fade.
Father John controls everything inside The Fence. And Father John likes rules. Especially about never talking to Outsiders. Because Father John knows the truth. He knows what is right, and what is wrong. He knows what is coming.
Moonbeam is starting to doubt, though. She's starting to see the lies behind Father John's words. She wants him to be found out.
What if the only way out of the darkness is to light a fire?​
Saint Death By Marcus Sedgwick​
Anapra is one of the poorest neighbourhoods in the Mexican city of Juarez - twenty metres outside town lies a fence, and beyond it, America - the dangerous goal of many a migrant. Faustino is one such trying to escape from the gang he's been working for. He's dipped into a pile of dollars he was supposed to be hiding and now he's on the run. He and his friend, Arturo, have only 36 hours to replace the missing money, or they're as good as dead.

Watching over them is Saint Death. Saint Death (or Santissima Muerte) - she of pure bone and charcoal-black eye, she of absolute loyalty and neutral morality, holy patron to rich and poor, to prostitute and narco-lord, criminal and police-chief. A folk saint, a rebel angel, a sinister guardian.
The Hate You Give By Angie Thomas
Sixteen-year-old Starr lives in two worlds: the poor neighbourhood where she was born and raised and her posh high school in the suburbs. The uneasy balance between them is shattered when Starr is the only witness to the fatal shooting of her unarmed best friend, Khalil, by a police officer. Now what Starr says could destroy her community. It could also get her killed.
Inspired by the Black Lives Matter movement, this is a powerful and gripping YA novel about one girl's struggle for justice.
February 2019
| M | T | W | T | F | WE |
| --- | --- | --- | --- | --- | --- |
| | | | | 1 | 2 |
| 4 | 5 | 6 | 7 | 8 | 9 |
| 11 | 12 | 13 | 14 | 15 | 16 |
| 18 | 19 | 20 | 21 | 22 | 23 |
| 25 | 26 | 27 | 28 | | |