Latest News
Latest News
Stretch and Challenge Display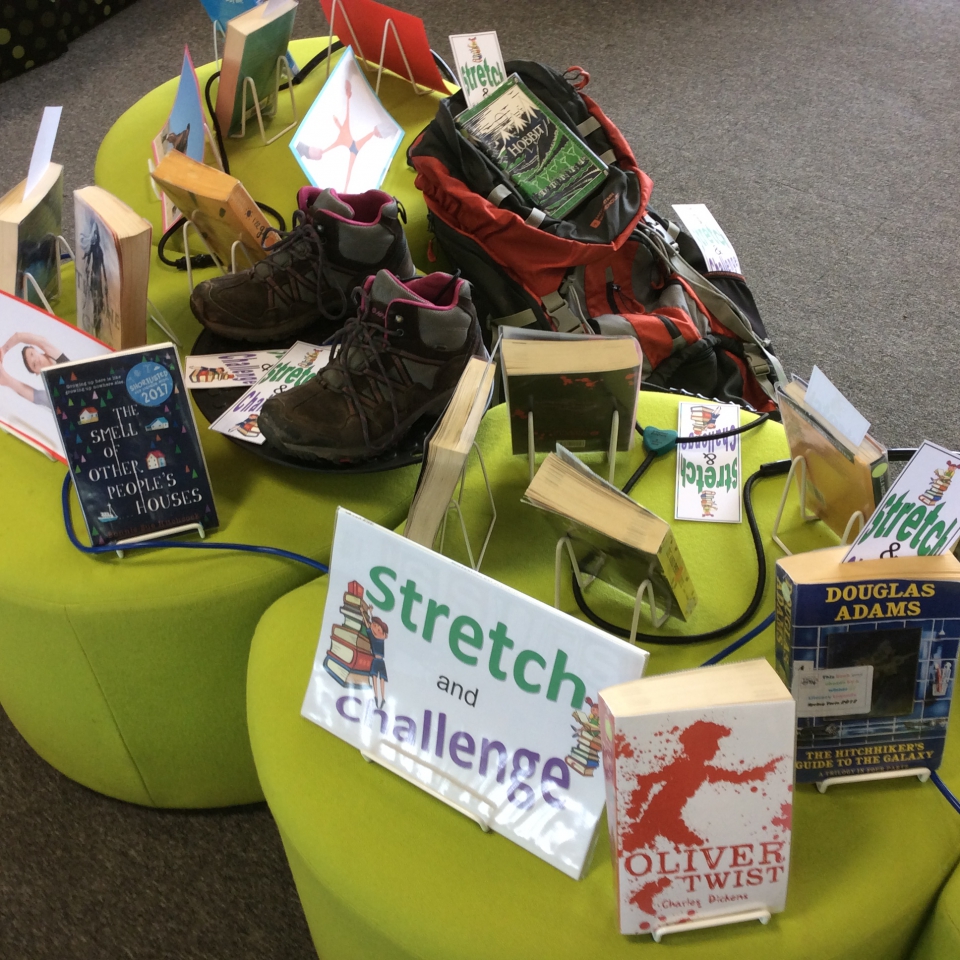 As we approach the glorious summer the Learning Lounge has put on display classic and modern fiction that will not only open your mind but challenge your reading. Many people might be put off my Jane Austin or Charles Dickens, which is OK. But in replacement we have found and read some of todays best modern fiction that is sure to challenge you in just the same way as our favourite classics.
If you want a lovely book to enjoy in the sunshine why not check out our stretch and challenge display today. Stretch your mind and challenge yourself!.
Spotlight Books:
Salt to the Sea by Ruta Sepetys:
World War II is drawing to a close in East Prussia and thousands of refugees are on a desperate trek toward freedom, many with something to hide. Among them are Joana, Emilia, and Florian, whose paths converge en route to the ship that promises salvation, the Wilhelm Gustloff. Forced by circumstance to unite, the three find their strength, courage, and trust in each other tested with each step closer to safety.

Just when it seems freedom is within their grasp, tragedy strikes. Not country, nor culture, nor status matter as all ten thousand people--adults and children alike--aboard must fight for the same thing: survival.
Orangeboy by Patrice Lawrence:
Not cool enough, not clever enough, not street enough for anyone to notice me. I was the kid people looked straight through.NOT ANY MORE. NOT SINCE MR ORANGE. Sixteen-year-old Marlon has made his mum a promise - he'll never follow his big brother, Andre, down the wrong path. So far, it's been easy, but when a date ends in tragedy, Marlon finds himself hunted. They're after the mysterious Mr Orange, and they're going to use Marlon to get to him. Marlon's out of choices - can he become the person he never wanted to be, to protect everyone he loves?
The Song of Achilles by Madeline Miller:
Greece in the age of heroes. Patroclus, an awkward young prince, has been exiled to the court of King Peleus and his perfect son Achilles. Despite their differences, the boys develop a tender friendship, a bond which blossoms into something deeper as they grow into young men.

But when Helen of Sparta is kidnapped, Achilles is dispatched to distant Troy to fulfil his destiny. Torn between love and fear for his friend, Patroclus follows, little knowing that the years that follow will test everything they hold dear.
Illuminae by Amie Kaufman and Jay Kristoff:
The year is 2575 and two mega-corporations are at war over a planet that's little more than an ice covered speck. Too bad nobody thought to warn the people living on it. With enemy fire raining down on them Ezra and Kady have to make their escape on the evacuating fleet. But their troubles are just beginning. A deadly plague has broken out on one of the space ships and it is mutating with terrifying results. Their ships protection is seriously flawed. No one will say what is going on. As Kady hacks into a tangled web of data to find the truth its clear only one person can help her. Ezra. And the only problem with that is they split up before all this trouble started and she isn't supposed to be talking to him. A fantastically original, heart-stopping adventure where everything is definitely more dangerous than it seems.​
April 2019
| M | T | W | T | F | WE |
| --- | --- | --- | --- | --- | --- |
| 1 | 2 | 3 | 4 | 5 | 6 |
| 8 | 9 | 10 | 11 | 12 | 13 |
| 15 | 16 | 17 | 18 | 19 | 20 |
| 22 | 23 | 24 | 25 | 26 | 27 |
| 29 | 30 | | | | |