Latest News
Latest News
New Books!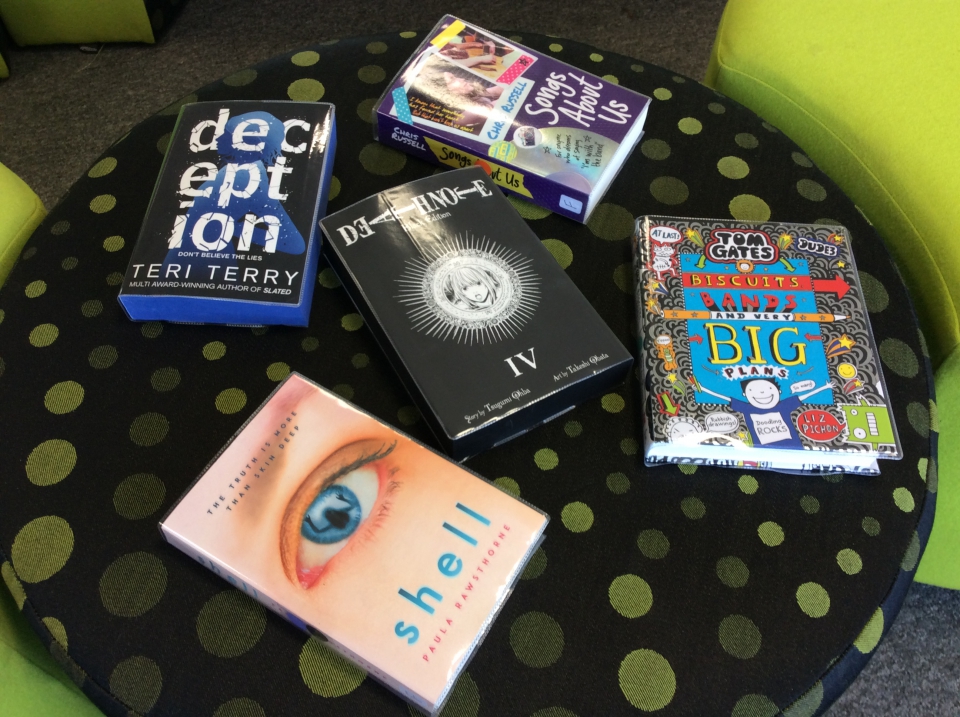 The end of term is soon upon us so why not pop to the Learning Lounge and check out the July display...
Songs About Us BK2 by Chris Russell
Two months on from the explosive finale to book one, Charlie's life is almost back to normal again: rebuilding her relationship with her father, hanging out with best mate Melissa, and worrying about GCSEs. All the while, Gabe's revelations about her mother are never far from her mind. And neither is Gabe.
It's not long before Charlie is pulled back into the world of Fire&Lights - but the band seem different this time. But then again, so is she...
Meanwhile, tensions between Gabe and Olly continue to run high, leading to more turmoil between the band members and press than ever before. But when Gabriel and Charlie stumble upon yet another startling truth that links them together - everything they have stands to implode in front of them. (Bk 1 available in the LL)
Deception by Teri Teri
Don't miss this startling second book in a breathtaking new trilogy from Teri Terry, queen of the teen thriller and author of the bestselling SLATED trilogy.

An epidemic is sweeping the country.
You are among the infected. There is no cure, and you cannot be permitted to infect others. You are now under quarantine.
The 5% of the infected who survive are dangerous and will be taken into the custody of the army.
As the epidemic spreads, survivors are being hunted like witches, for the authorities fear their strange new powers.
Kai is desperate to trace Shay, who tricked him and disappeared. Meanwhile, Shay is searching for the truth behind the origins of the epidemic ... but danger finds them wherever they go. Can they outrun the fire?
From the author of the international sensation Slated comes the second book in a powerful new story of survival and transformation; love and power. (BK1 available in the LL)
Shell by Paula Rawsthrone
​What if you thought you had died, only to wake up in someone else's body? When Lucy, a teen diagnosed with terminal cancer wakes up cancer-free, it should be a dream come true. But faced with a life she didn't choose and trapped in a new body, Lucy must face the biggest question of all . . . How far would you go to save the one you love?​
April 2019
| M | T | W | T | F | WE |
| --- | --- | --- | --- | --- | --- |
| 1 | 2 | 3 | 4 | 5 | 6 |
| 8 | 9 | 10 | 11 | 12 | 13 |
| 15 | 16 | 17 | 18 | 19 | 20 |
| 22 | 23 | 24 | 25 | 26 | 27 |
| 29 | 30 | | | | |