Latest News
Latest News
New December Display - 2018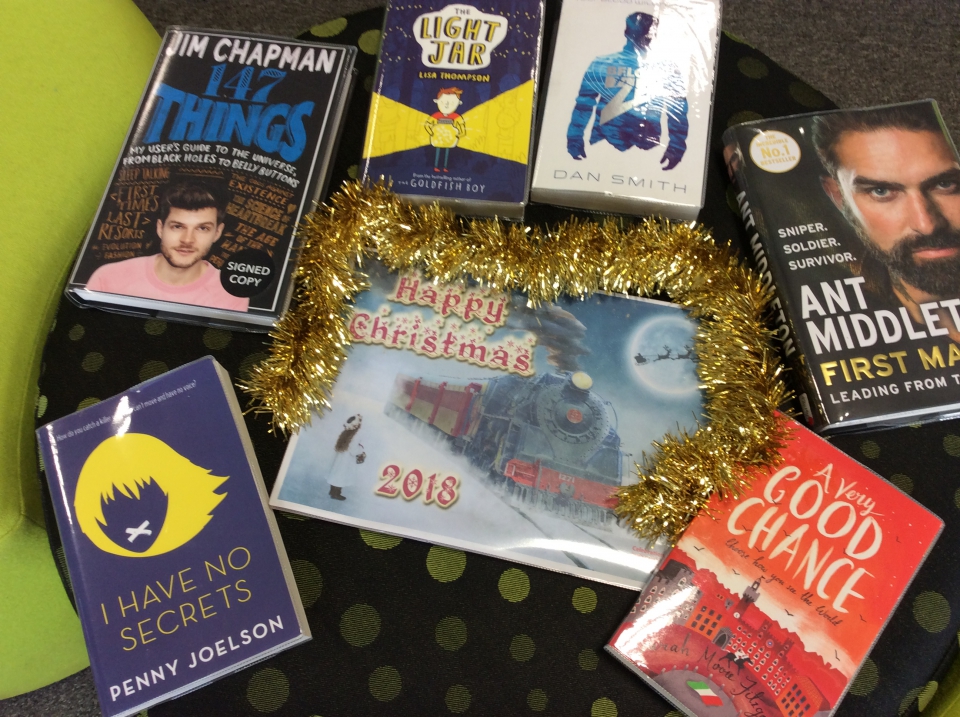 New month, new books!
All new solo books including 'I Have No Secrets', 'The Light Jar' and 'A Good Chance'
Books that follow on from your favourite series, introducing: 'Warrior Cats:rising Storm' and 'Bodyguard: Ransom'
Brand new Manga: 'Full Metal Alchemist Volumes 7-8-9'
Great new non-fiction books; feel inspired by: '147 Things', 'First Man in', 'Selp-Help' and 'Rainbow Roots #MAKEUPBYME'
Where will December's book display take you?
Spotlight Books:
I Have No Secrets by Penny Joelson
Jemma knows who did the murder. She knows because he told her. And she can't tell anyone.

Fourteen-year-old Jemma has severe cerebral palsy. Unable to communicate or move, she relies on her family and carer for everything. She has a sharp brain and inquisitive nature, and knows all sorts of things about everyone. But when she is confronted with this terrible secret, she is utterly powerless to do anything. Though that might be about to change...
The Light Jar by Lisa Thompson
Nate and his mother are running away, hiding out in a tumbledown cottage in the middle of a forest. When Mum heads off for provisions, and then doesn't return, Nate is left alone and afraid, with the dark closing in all around him. But comfort can come from the most unexpected of places - a mysterious girl trying to solve the clues of a treasure hunt and the reappearance of an old friend from his past. Will Nate find the bravery needed to face the troubles of his present and ultimately illuminate the future?
147 Things by Jim Chapman
I'm an extremely curious chap and with this book I wanted to share the content of my noggin, because I think these are the 147 things that have helped me through this thing we call life. Sometimes because it shows how lucky we are to be here at all, but often because I'm a moron and learned whatever lesson it taught me the hard way, and I'd like to save you the pain of making the same mistakes.
June 2019
| M | T | W | T | F | WE |
| --- | --- | --- | --- | --- | --- |
| | | | | | 1 |
| 3 | 4 | 5 | 6 | 7 | 8 |
| 10 | 11 | 12 | 13 | 14 | 15 |
| 17 | 18 | 19 | 20 | 21 | 22 |
| 24 | 25 | 26 | 27 | 28 | 29 |