Latest News
Latest News
LGBTQ+ Display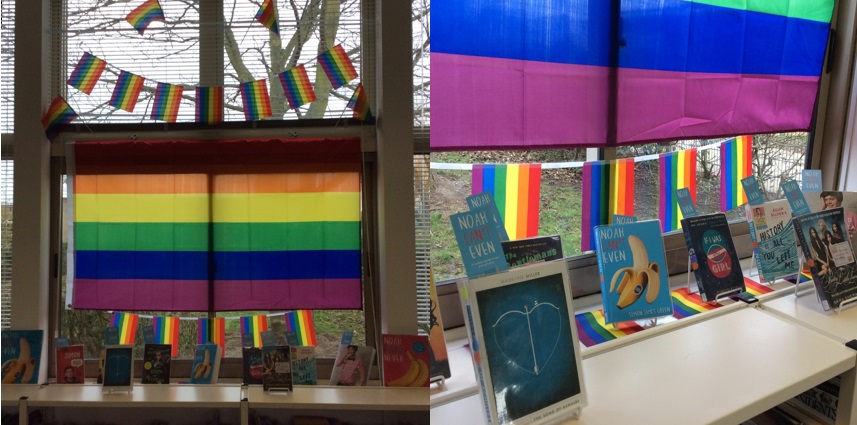 This year we have cleared away the dark clouds and replaced them with rainbows! Our LGBTQ+ display is finally ready. This display is dedicated to all our books which include LGBTQ+ characters or storylines.
Bask in the rainbow and take out a book today!
Spotlight Books:
Noah Can't Even by Simon James Green
Poor Noah Grimes! His father disappeared years ago, hismother's Beyonce tribute act is an unacceptable embarrassment, and his beloved gran is no longer herself. He only has one friend, Harry, and school is... Well, it's pure hell. Why can't Noah be normal, like everyone else at school? Maybe if he struck up a romantic relationship with someone - maybe Sophie, who is perfect and lovely - he'd be seen in a different light? But Noah's plans are derailed when Harry kisses him at a party. That's when things go from bad to utter chaos.
Lies We Tell Ourselves by Robin Talley
It's 1959. The battle for civil rights is raging. And it's Sarah's first day of school as one of the first black students at previously all-white Jefferson High.

No one wants Sarah there. Not the Governor. Not the teachers. And certainly not the students – especially Linda, daughter of the town's most ardent segregationist.

Sarah and Linda are supposed to despise each other. But the more time they spend together, the less their differences matter. And both girls start to feel something they've never felt before. Something they're determined to ignore.
If I Was Your Girl by Meredith Russo
Amanda Hardy is the new girl at school. Like everyone, all she wants is to make friends and fit in. But Amanda is holding back. Even from Grant, the guy she's falling in love with. Amanda has a secret. At her old school, she used to be called Andrew. And secrets always have a way of getting out.

A book about loving yourself and being loved for who you really are.
Simon Vs The Homo Sapiens Agenda by Becky Alberti
Straight people should have to come out too. And the more awkward it is, the better.

Simon Spier is sixteen and trying to work out who he is - and what he's looking for.

But when one of his emails to the very distracting Blue falls into the wrong hands, things get all kinds of complicated.

Because, for Simon, falling for Blue is a big deal ...

It's a holy freaking huge awesome deal.
June 2019
| M | T | W | T | F | WE |
| --- | --- | --- | --- | --- | --- |
| | | | | | 1 |
| 3 | 4 | 5 | 6 | 7 | 8 |
| 10 | 11 | 12 | 13 | 14 | 15 |
| 17 | 18 | 19 | 20 | 21 | 22 |
| 24 | 25 | 26 | 27 | 28 | 29 |