Latest News
Latest News
Carnegie Awards 2019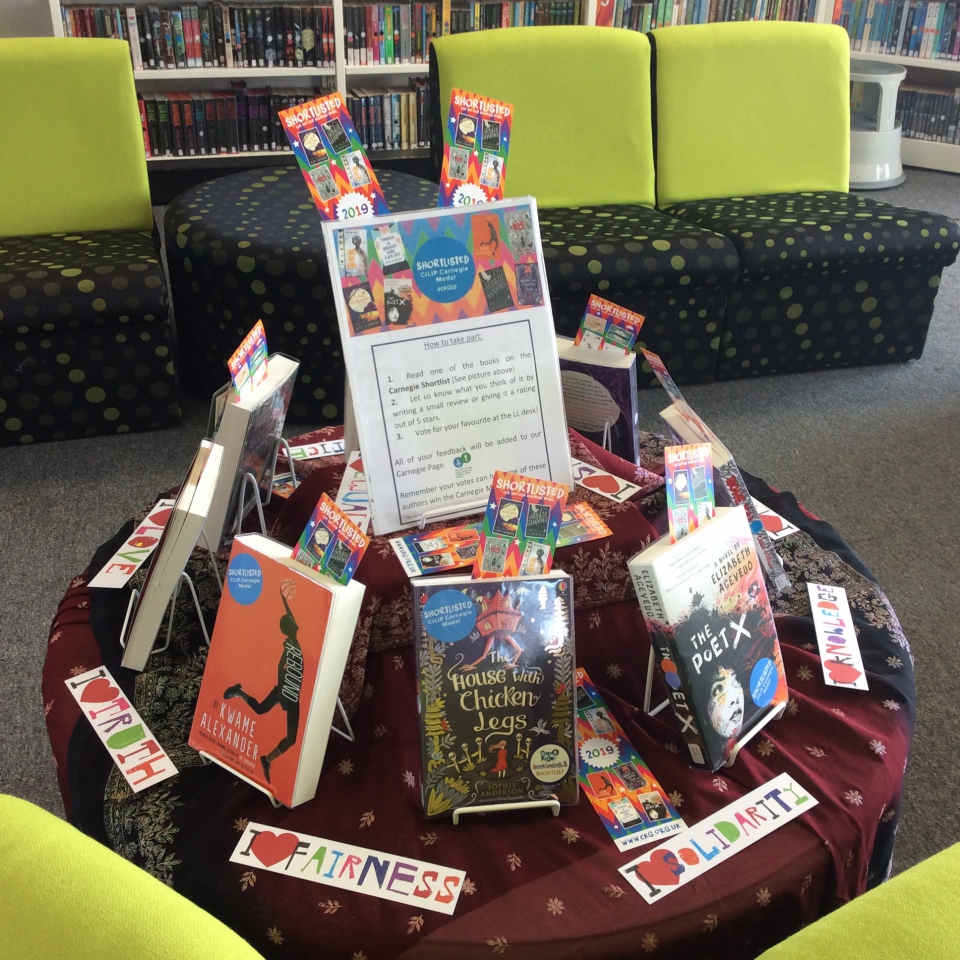 The Carnegie awards are underway! The shortlisted books are all available to take out today from the Learning Lounge. All these books have been chosen to win the Carnegie Medal. However, before there can be a winner they need to be voted for. All the shortlisted books can be found on our Carnegie display, along with a free Carnegie bookmark. Be sure to take one out today and then place your vote on our Carnegie Shadowing page -> http://www.carnegiegreenaway.org.uk/grouphomepages/index.php?GroupID=11643 we would love to hear your thoughts on the books.
In the Spotlight:
The Poet X By Elizabeth Acevedo:
Xiomara has always kept her words to herself. When it comes to standing her ground in her Harlem neighbourhood, she lets her fists and her fierceness do the talking.

But X has secrets – her feelings for a boy in her bio class, and the notebook full of poems that she keeps under her bed. And a slam poetry club that will pull those secrets into the spotlight.

Because in spite of a world that might not want to hear her, Xiomara refuses to stay silent.
Things a Bright Girl Can Do by Sally Nicholls
Through rallies and marches, in polite drawing rooms and freezing prison cells and the poverty-stricken slums of the East End, three courageous young women join the fight for the vote.

Evelyn is seventeen, and though she is rich and clever, she may never be allowed to follow her older brother to university. Enraged that she is expected to marry her childhood sweetheart rather than be educated, she joins the Suffragettes, and vows to pay the ultimate price for women's freedom.

May is fifteen, and already sworn to the cause, though she and her fellow Suffragists refuse violence. When she meets Nell, a girl who's grown up in hardship, she sees a kindred spirit. Together and in love, the two girls start to dream of a world where all kinds of women have their place.

But the fight for freedom will challenge Evelyn, May and Nell more than they ever could believe. As war looms, just how much are they willing to sacrifice?
The Land of Neverendings by Kate Saunders
What if there exists a world powered by imagination?

A world of silliness, where humans and their toys live on long after they've left the Hard World . . . and what if the door between that world and this one was broken?

Welcome to the Land of Neverendings.
For more information on the Carnegie Books please head over to our podcast page -> https://www.podomatic.com/podcasts/loungingwithbooks/episodes/2019-03-28T08_30_28-07_00
September 2019
| M | T | W | T | F | WE |
| --- | --- | --- | --- | --- | --- |
| | | | | | 1 |
| 2 | 3 | 4 | 5 | 6 | 7 |
| 9 | 10 | 11 | 12 | 13 | 14 |
| 16 | 17 | 18 | 19 | 20 | 21 |
| 23 | 24 | 25 | 26 | 27 | 28 |
| 30 | | | | | |