Latest News
Latest News
New May Display - 2019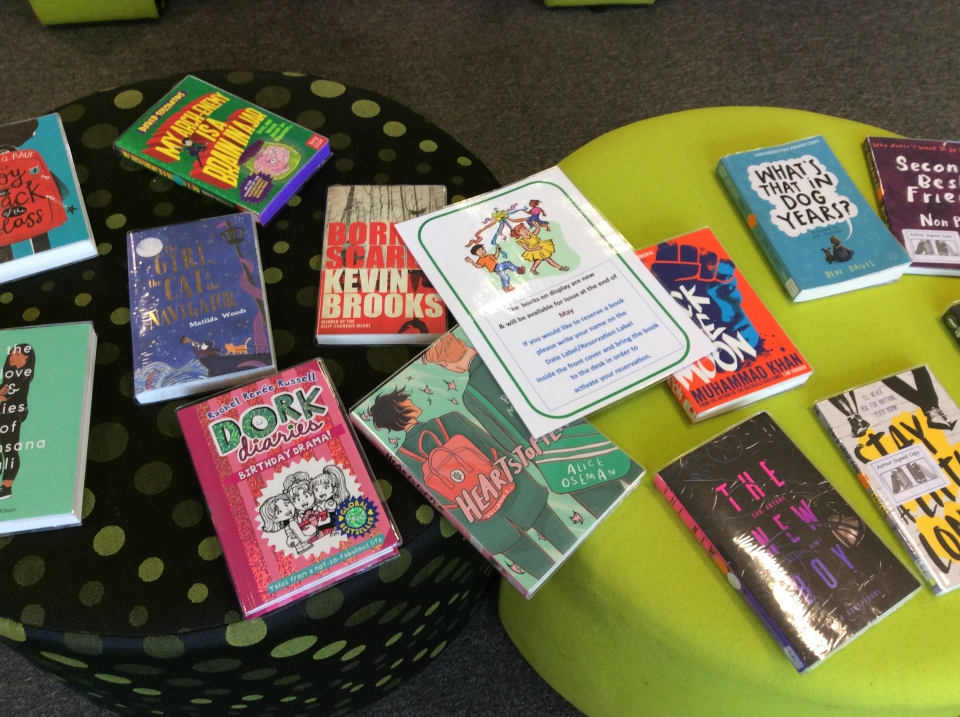 New year, new month, new books!
All new solo books including 'The girl the cat and the navigator', 'What's that in dog years' , 'The new boy' and 'Boy at the Back of the Class'
Books that follow on from your favourite series, introducing: 'The big, fat, totally bonkers, diary of pig'' , 'Alex Rider: Secret Weapon' and 'Dork Diaries: Birthday Drama.'
Brand new Manga and Graphic Novels: 'Sailor moon Vol 2' and 'Bleach'
Great new LGBTQ+ reads including, 'Heartstopper' and 'The love and lies of Rukhsana Ali'.
Engaging non-fiction books to sit down with: 'Corpse Talk: Ground Breaking Scientists', 'Football School Season 2' and 'Marley Dias gets it done and so can you'.
Where will May's book display take you?
Spotlight Books:
The New Boy by Paula Rawsthorne
When a gorgeous new boy starts at Zoe's school, her first reaction is to feel nervous.

He's way too perfect. Surely he can't be for real?

But when Jack turns his charm on her, Zoe packs her worries away in a suitcase. After all, he's popular, handsome and (best of all) nice. Soon, they're dating. He's everything she dreamed of - kind, attentive, full of romantic gestures.

But maybe Zoe ought to trust her instincts. Is her dream man truly good - or too good to be true?
What's That in Dog Years by Ben Davis
Gizmo has been my best friend since the day I was born - he's always been around. But now they're telling me he might not always be around which completely sucks.
I'm determined that me and Gizmo will have lots more fun and adventures before he goes - I mean, he loves parties, deserves pampering, and needs a break by the seaside. And as for that old saying about how you can't teach an old dog new tricks - it's true, you really can't!
Gizmo's bucket list is up and running - unlike Gizmo who is totally lazy and demanding to be carried . . .
The Boy at the Back of the Class by Onjali Q Rauf
There used to be an empty chair at the back of my class, but now a new boy called Ahmet is sitting in it.

He's nine years old (just like me), but he's very strange. He never talks and never smiles and doesn't like sweets - not even lemon sherbets, which are my favourite!

But then I learned the truth: Ahmet really isn't very strange at all. He's a refugee who's run away from a War. A real one. With bombs and fires and bullies that hurt people. And the more I find out about him, the more I want to help.

That's where my best friends Josie, Michael and Tom come in. Because you see, together we've come up with a plan. . .
February 2020
| M | T | W | T | F | WE |
| --- | --- | --- | --- | --- | --- |
| | | | | | 1 |
| 3 | 4 | 5 | 6 | 7 | 8 |
| 10 | 11 | 12 | 13 | 14 | 15 |
| 17 | 18 | 19 | 20 | 21 | 22 |
| 24 | 25 | 26 | 27 | 28 | 29 |