Latest News
Latest News
Eve Ainsworth Visits the Learning Lounge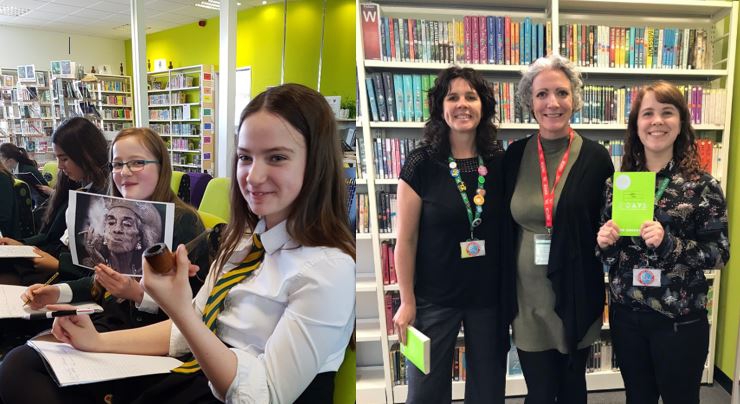 On Monday the 13th of May Toot Hill's Learning Lounge were lucky enough to welcome Eve Ainsworth through their doors. Eve is an emotional/ thought-provoking author who publishes stories which teenagers can relate to. They are hearty, engaging and real.
Eve signed copies of her published books for our KS3 students at lunchtime and then she hosted a writing workshop. In her workshop she gave each pair a photo and asked them to name the person in the photo and list their likes and dislikes. Then she handed out location photos and the students had to figure out why their character would be there. Finally, she handed out objects, these objects were the only things their characters were holding. After, the workshop we got to listen to how students had built their character and a short piece they had written about them.
Later, Eve then discussed her path into writing and how her pastoral career helped create dynamic stories. From bullying in 7 days to child carers in Tender. Eve told the students how common these issues were and that her books aim to help teenagers open up. It was a very interesting session and left us all with a lot to think about.
If you want to learn more about Eve then check out our podcast. During this podcast we interview Eve and ask her about her writing and pastoral career -> https://www.podomatic.com/podcasts/loungingwithbooks/episodes/2019-05-16T02_14_32-07_00​
Alternatively, you can borrow any of Eve's books from the Learning Lounge as we have them all of them!
October 2019
| M | T | W | T | F | WE |
| --- | --- | --- | --- | --- | --- |
| | 1 | 2 | 3 | 4 | 5 |
| 7 | 8 | 9 | 10 | 11 | 12 |
| 14 | 15 | 16 | 17 | 18 | 19 |
| 21 | 22 | 23 | 24 | 25 | 26 |
| 28 | 29 | 30 | 31 | | |