Latest News
Latest News
Getting Ready for Reading Week 31st of Jan to 4th of Feb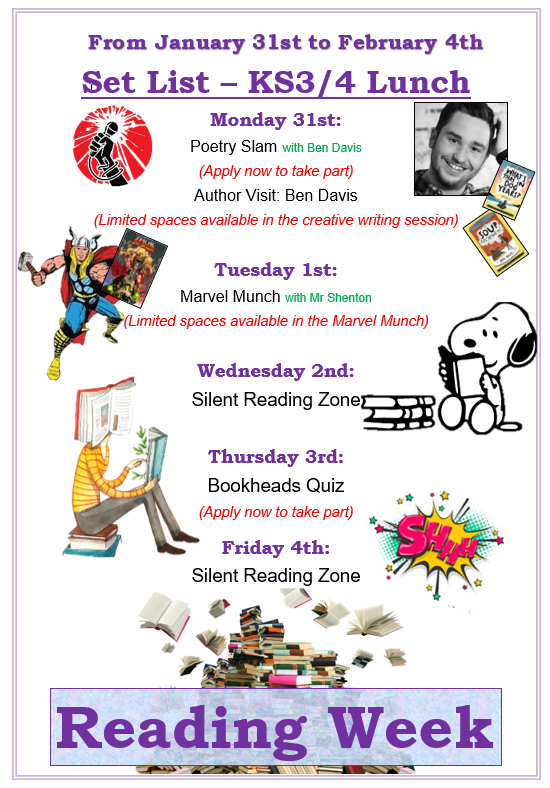 Reading Week will be happening from the 31st of January to the 4th of February. Students from Year 7-10 will need to have a book in their bag every day as they will be reading for the first 10 minutes of every lesson!
The Learning Lounge will also be hosting events throughout the week to celebrate reading for pleasure. You can see the set list pictured below. Our big event will be on Monday the 31st when author Ben Davis will be joining us for our poetry slam. Students can also sign up to his creative writing workshop during period 3.
To celebrate Ben's visit we are currently selling 2 of his books in the Learning Lounge; 'What's that in Dogs Years' and 'The Soup Movement' both of these are being sold for £6.99 and students can get them signed by Ben on the day! More information about the books can be found at the bottom of the news story.
So don't forget your reading book between 31/01/2022 - 04/02/2022 and have a look at the set list to see what activities you may want to sign up for.
Ben Davis books for sale:
What's that in Dog Years?
Gizmo has been my best friend since the day I was born - he's always been around. But now they're telling me he might not always be around which completely sucks. I'm determined that me and Gizmo will have lots more fun and adventures before he goes - I mean, he loves parties, deserves pampering, and needs a break by the seaside. And as for that old saying about how you can't teach an old dog new tricks - it's true, you really can't! Gizmo's bucket list is up and running - unlike Gizmo who is totally lazy and demanding to be carried . .
The Soup Movement
To aid his recovery from a life-threatening illness Jordan and his family move out of the city for a healthy new start. Jordan's getting enough funny looks as the new boy at school as it is, without his Mum giving him homemade soup every day for lunch! But when Jordan meets a homeless man called Harry, and gives him the soup, it is the start of an unlikely friendship.
May 2022
| M | T | W | T | F | WE |
| --- | --- | --- | --- | --- | --- |
| | | | | | 1 |
| 2 | 3 | 4 | 5 | 6 | 7 |
| 9 | 10 | 11 | 12 | 13 | 14 |
| 16 | 17 | 18 | 19 | 20 | 21 |
| 23 | 24 | 25 | 26 | 27 | 28 |
| 30 | 31 | | | | |