Latest News
Latest News
Author of the month - Nov 2017 - Emma Pass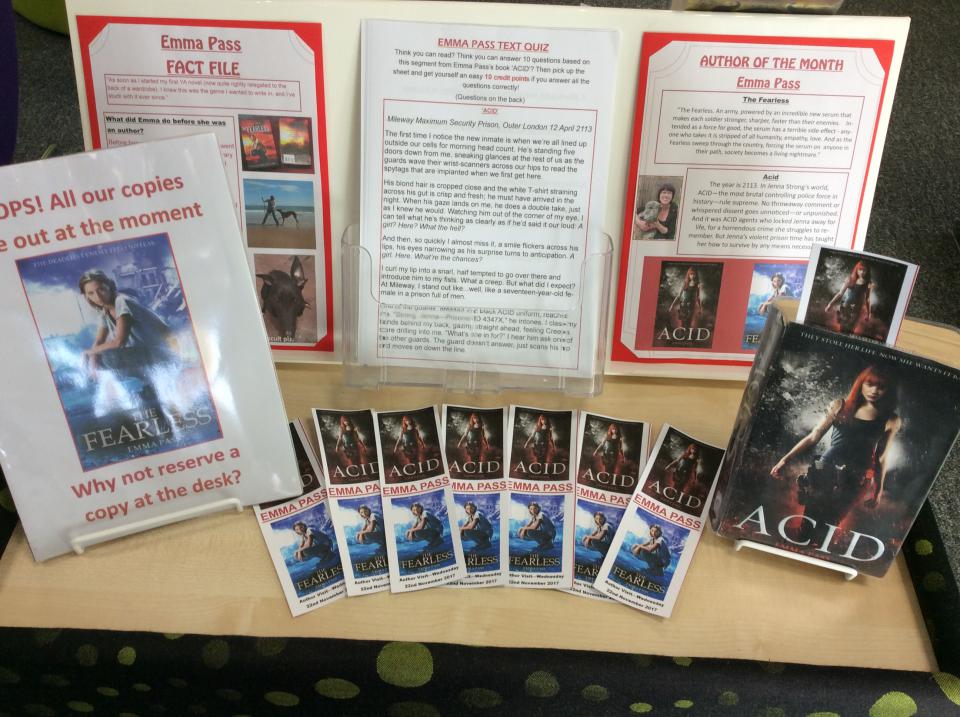 This month the Learning Lounge is celebrating one of your favourite authors! Emma Pass is famous for her dystopian novels based around strong female characters. She has written 'ACID' and 'The Fearless'. Emma will be visiting the Learning Lounge on Wednesday the 22nd of November. She will be conducting a science fiction writing workshop. If you are interested in attending let Mrs Marris or Miss Jones know. She will also be available to answer all your questions at lunchtime.
To celebrate Emma's visit and her amazing books we have created a quiz! Read through the text taken from her book 'ACID' and answer the questions. If you complete the quiz you will earn yourself 10 credit points!
So pop by the Learning Lounge this month and get to know all about Emma Pass and her thrilling books!
'ACID' by Emma Pass
​The year is 2113. In Jenna Strong's world, ACID—the most brutal controlling police force in history—rule supreme. No throwaway comment or whispered dissent goes unnoticed—or unpunished. And it was ACID agents who locked Jenna away for life, for a horrendous crime she struggles to remember. But Jenna's violent prison time has taught her how to survive by any means necessary. When a mysterious rebel group breaks her out, she must use her strength, speed, and skill to stay one step ahead of ACID and try to uncover the truth about what really happened on that terrible night two years ago. They've taken her life, her freedom, and her memories away from her. How can she reclaim anything when she doesn't know who to trust?
October 2018
| M | T | W | T | F | WE |
| --- | --- | --- | --- | --- | --- |
| 1 | 2 | 3 | 4 | 5 | 6 |
| 8 | 9 | 10 | 11 | 12 | 13 |
| 15 | 16 | 17 | 18 | 19 | 20 |
| 22 | 23 | 24 | 25 | 26 | 27 |
| 29 | 30 | 31 | | | |