Latest News
Latest News
Teacher Feature February 2018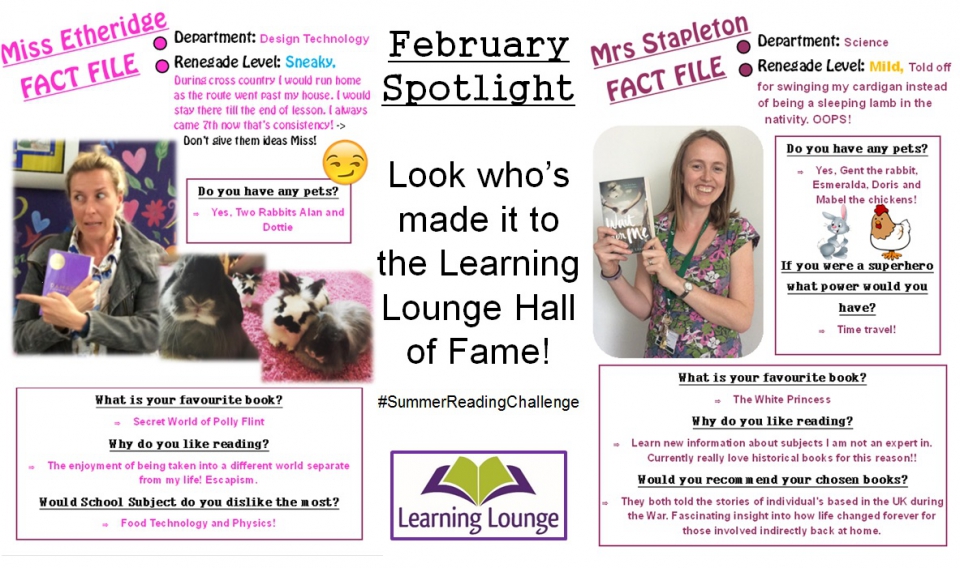 During the summer, when you were on a beach, our lovely teachers were busy reading your favourite books! They have created some incredible questions for you to answer based on your favourite books! Every month we will focus our attention on a different teacher and a different book. If you want to read these cracking books its simple!
1. Reserve the book on the Teacher Feature display
2. Get the book with the questions in
3. Read the book and answer the questions
4. Return the book and get 25 credit points and a lolly for your outstanding efforts!
You can also learn new things about your favourite teachers by reading their profile next to their book.
February Teachers and Books!
Meet Miss Etheridge! Her summer read was Damage by Eve Ainsworth.
Damage by Eve Ainsworth
How can you heal if you can't face your past? Confident, popular Gabi has a secret - a secret so terrible she can't tell her family, or her best friend. She can't even take pleasure in her beloved skateboarding any more. And then one day an impulse turns to something darker. Gabi has never felt so alone. But then she learns that not everyone has wounds you can see.
Meet Mrs Stapleton her summer reads were Rose in the Blitz by Rebecca Stevens and Wait for me by Caroline Leech.
Rose in the Blitz by Rebecca Stevens
It's the night before Rose's mum re-marries. Rose can't sleep for worrying and nor can her muddled Great-Aunt Cosy, her namesake. Rose sees the old lady leaving the house and runs after her to the London underground. Their empty train stops in 1940, in a war-torn London broken by the Blitz. Here, Rose witnesses great romance and impending sacrifice. Tragedy will surely follow - unless she can change what happens next ...
Wait for Me by Caroline Leech
It's 1945, and Lorna Anderson's life on her father's farm in Scotland consists of endless chores, rationing and praying for an Allied victory. So when Paul Vogel, a German prisoner of war, is assigned as the new farmhand, Lorna is appalled. How can she possibly work alongside the enemy when her own brothers are risking their lives for the country?
February 2019
| M | T | W | T | F | WE |
| --- | --- | --- | --- | --- | --- |
| | | | | 1 | 2 |
| 4 | 5 | 6 | 7 | 8 | 9 |
| 11 | 12 | 13 | 14 | 15 | 16 |
| 18 | 19 | 20 | 21 | 22 | 23 |
| 25 | 26 | 27 | 28 | | |