Latest News
Latest News
New February Display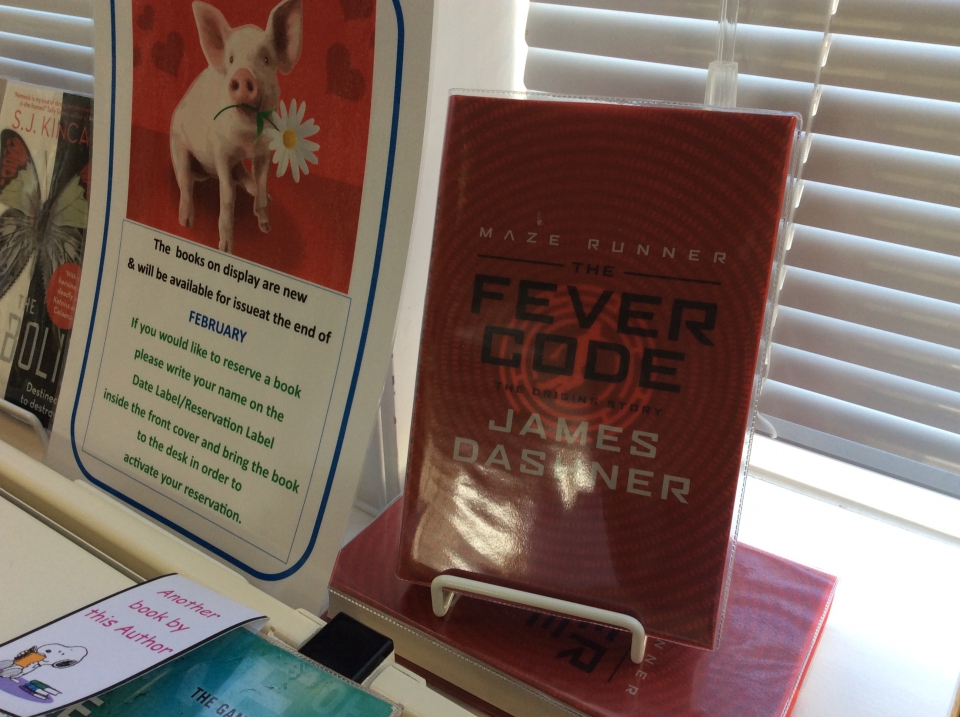 New month, new books!
All new sequels! The sequels to 'Dork Diaries', 'World's worst children', 'Maze Runner' and 'The Summoner' are all on show. So if you love these series you might want to reserve your copy today to find out what happens next.
All new solo books including a 'kiss in the dark', 'the diabolic' and 'Nightfall.'
All new fiction quick reads! Venture back into the past with 'The Wave' or 'Passing for white'. Or travel into the future with 'Senseless'. Beautifully small yet gripping books that will keep you hooked till the last page.
Where will February's book display take you?
Spotlight Books:
Fever Code by James Dashner
The world has ended: the earth is scorched, and fever rages through the population. Out of the chaos, a boy emerges with the power to change everything: Thomas. This is the start of his story. An electrifying Maze Runner prequel, The Fever Code holds all the answers: How did WICKED find the Gladers? Who are Group B? Whose side are Thomas and Teresa really on? Lies will be exposed. Secrets uncovered. Loyalties proven. You'll never see the truth coming ...
Senseless by Steve Cole
It's a dream come true - Kenzie has been invited to a big international gaming tournament on a sun-soaked island. But then unreality ratchets up with disturbing scenes involving other contestants, soldiers and frantic chases through the hotel. Worst of all, Kenzie seems to be losing his senses one by one - and he has no idea whether the dangers he faces are real or the game
Lie, Kill, Walk Away by Matt Dickinson
LIE
I check the Range Rover dash. The keys are in there.
The sirens are closing in. There s a police helicopter coming over the hospital

KILL
I have to decide. Decide right now. I can keep out of trouble. Not get involved. Just run away through the park and go home and pretend none of this has happened.
Or I can help Becca.

WALK AWAY
I stare into her eyes. Those deep blue eyes. Just for a split second.
I tell her, get in the car .

Joe and Becca uncover a deadly secret. A lethal bioweapon is about to be unleashed. Millions will suffer a terrible death.

Now they are being hunted down.

And their problems have only just begun ...
January 2019
| M | T | W | T | F | WE |
| --- | --- | --- | --- | --- | --- |
| | 1 | 2 | 3 | 4 | 5 |
| 7 | 8 | 9 | 10 | 11 | 12 |
| 14 | 15 | 16 | 17 | 18 | 19 |
| 21 | 22 | 23 | 24 | 25 | 26 |
| 28 | 29 | 30 | 31 | | |