Latest News
Latest News
Author of the Month - Mar 2018 - Sarah Crossan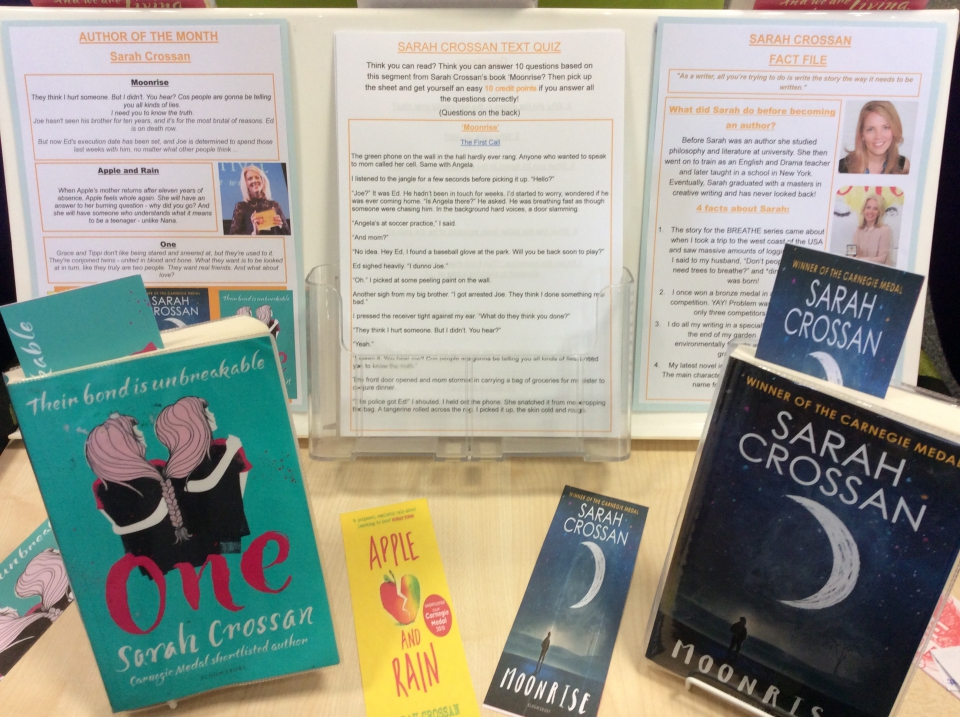 This months author of the month is Sarah Crossan. Sarah studied philosophy and literature at University. She soon became an English teacher and worked abroad in America. She soon became a critically acclaimed author and hasn't looked back since! With amazing stories such as 'One' and 'The weight of water' she truly is brilliant. Be sure to take out one of her books today. You won't be disappointed.
You can also earn yourself 10 credit points by completing a Sarah Crossan text quiz. Read through an extract of her novel, 'Moonrise', and answer the 10 questions on the back. Easy!
If you want to know more about Sarah check out her display in the Learning Lounge.
Spotlight Book:
Moonrise
They think I hurt someone.
But I didn't. You hear?
Cos people are gonna be telling you
all kinds of lies.
I need you to know the truth.

Joe hasn't seen his brother for ten years, and it's for the most brutal of reasons. Ed is on death row.

But now Ed's execution date has been set, and Joe is determined to spend those last weeks with him, no matter what other people think ...
April 2019
| M | T | W | T | F | WE |
| --- | --- | --- | --- | --- | --- |
| 1 | 2 | 3 | 4 | 5 | 6 |
| 8 | 9 | 10 | 11 | 12 | 13 |
| 15 | 16 | 17 | 18 | 19 | 20 |
| 22 | 23 | 24 | 25 | 26 | 27 |
| 29 | 30 | | | | |