Latest News
Latest News
New April Display - 2018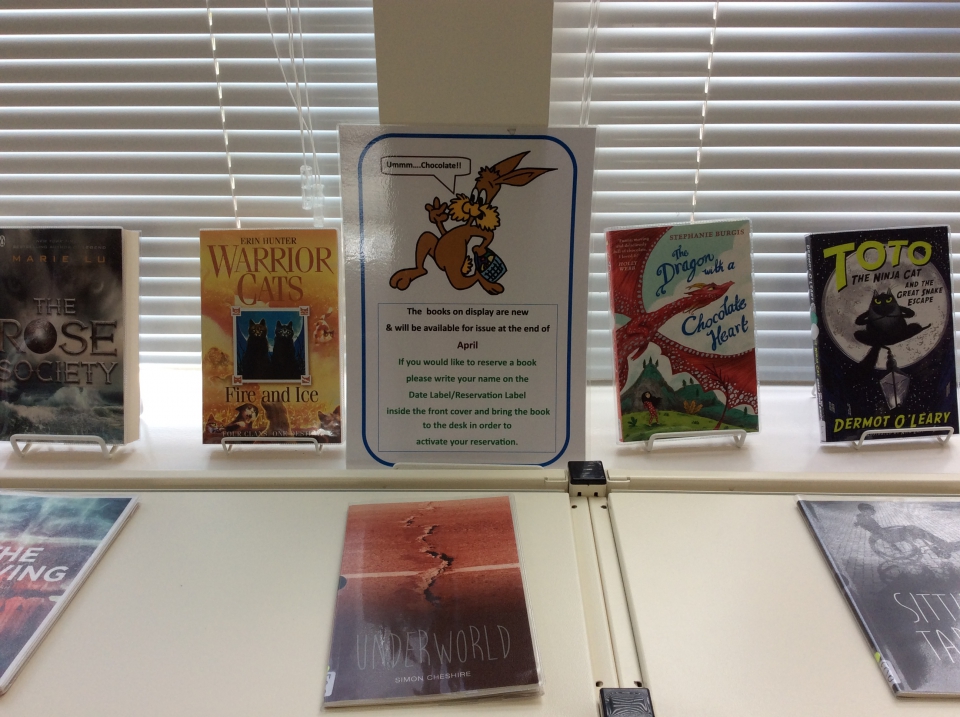 New month, new books!
All new solo books including 'Raymie Nightingale', 'Black Cats and Butlers' and 'The Starman and Me.'
Fantastic books that follow on from your favourite series including 'The 100: Rebellion', 'Warrior Cats Fire and Ice' and 'Elementia Chronicles: The New Order'.
Great new non-fiction books, learn something new in 'The Complete Cookbook For Children' and 'Minecraft's: Survivors Book of Secrets'.
And loads of brand new fiction quick reads. This new selection of smalls reads are sure to grab your attention as they take you to some thrilling places!
Where will April's book display take you?
Spotlight Books:
Black Cats and Butler's by Janine Beacham​
When Rose Raventhorpe's beloved butler is found (gasp!) murdered in the hallway of her own house, she's determined to uncover the culprit. Especially since he's the third butler to die in a week!

Rose's investigation leads her on a journey into a hidden world of grave robbers and duelling butlers, flamboyant magicians and the city's ancient feline guardians.

Knives aren't just for cutting cucumber sandwiches, you know . . .
The Dragon with a Chocolate Heart by Stephanie Burgis​
Aventurine is the fiercest, bravest kind of dragon, and she's ready to prove it to her family by leaving the safety of their mountain cave and capturing the most dangerous prey of all: a human.

But when the human she captures tricks her into drinking enchanted hot chocolate, she finds herself transformed into a puny human girl with tiny blunt teeth, no fire, and not one single claw. She's still the fiercest creature in these mountains though - and now she's found her true passion: chocolate! All she has to do is walk on two feet to the human city, find herself an apprenticeship (whatever that is) in a chocolate house (which sounds delicious), and she'll be conquering new territory in no time . won't she?
In the Stars by Echo Freer
Jaz and Dex are 16 and in love. They're the town's hottest couple. But there's a problem: Jaz's parents have forbidden her to see boys. They keep their love secret until one day Jaz doesn't feel well. Her dad sees them together and tells Dex he'll kill him if he tries to meet Jaz again. As jazz's illness gets worse, Dex is desperate to see her because he knows she's the only girl he'll ever truly love. He just hopes he can win over her parents in time to help her through her illness.
February 2019
| M | T | W | T | F | WE |
| --- | --- | --- | --- | --- | --- |
| | | | | 1 | 2 |
| 4 | 5 | 6 | 7 | 8 | 9 |
| 11 | 12 | 13 | 14 | 15 | 16 |
| 18 | 19 | 20 | 21 | 22 | 23 |
| 25 | 26 | 27 | 28 | | |