Latest News
Latest News
New Author of the Month - May 2018 - Tom Hoyle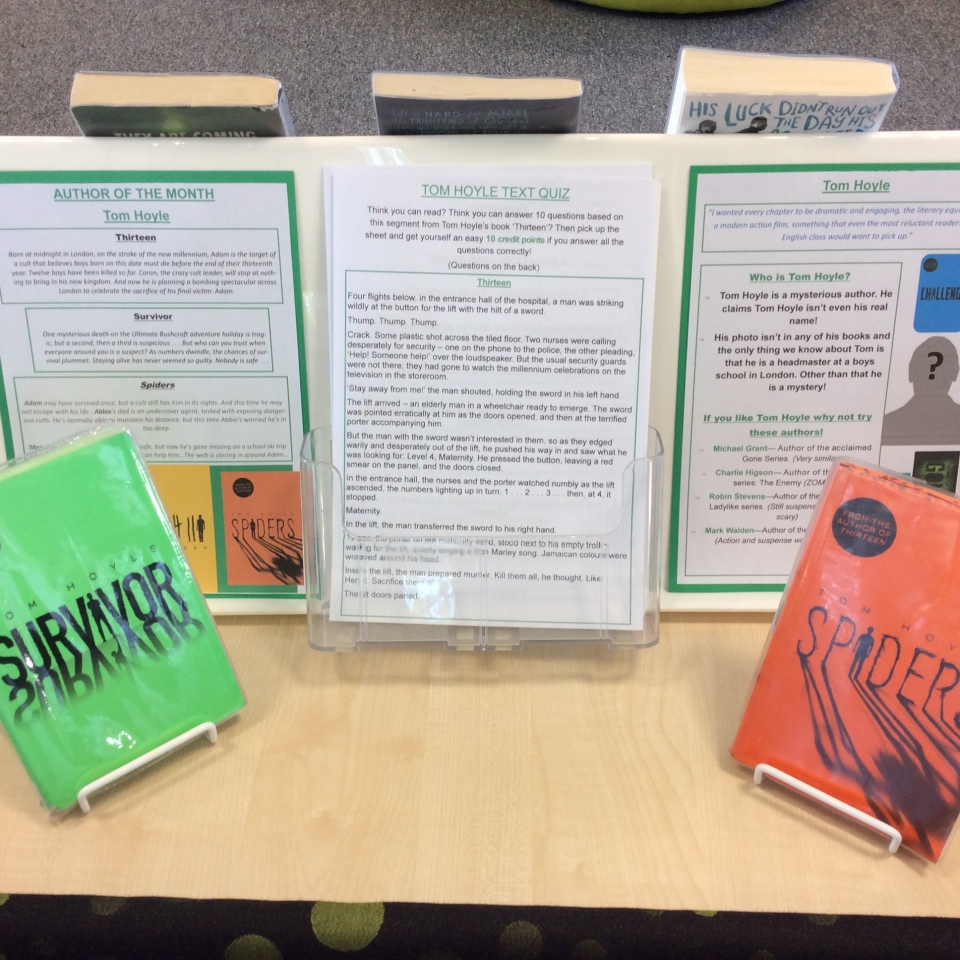 This months author is Tom Hoyle. Tom is a mysterious author. 'Tom Hoyle' isn't even his real name! Tom lives a double life and keeps his true identity hidden. All we truly know is he's a headmaster at a boy's school in London. We also know his books are fantastic! They are amazing rollercoaster rides.
You can also earn yourself 10 credit points by completing a Tom Hoyle text quiz. Read through an extract of his novel, 'Thirteen', and answer the 10 questions on the back. Easy!
If you want to know more about Tom check out his display in the Learning Lounge.
Spotlight Book:
The Challenge
Ben's been grieving for his best friend, Will, who suddenly disappeared from their tiny village a year ago. But when twins Sam and Jack begin at the school, things start to look up. Cool, good-looking and popular, they draw Ben into their world and introduce him to The Challenge. What first appears to be a fun internet game quickly turns sinister as Ben's tasks become wilder and more dangerous, starting to raise questions over Will's disappearance. But once you're involved with The Challenge, it's very hard to get out . . .​
Survivor
One mysterious death on the Ultimate Bushcraft adventure holiday is tragic, but a second, then a third is suspicious . . . But who can you trust when everyone around you is a suspect? As numbers dwindle, the chances of survival plummet. Staying alive has never seemed so guilty. Nobody is safe . . .​
April 2019
| M | T | W | T | F | WE |
| --- | --- | --- | --- | --- | --- |
| 1 | 2 | 3 | 4 | 5 | 6 |
| 8 | 9 | 10 | 11 | 12 | 13 |
| 15 | 16 | 17 | 18 | 19 | 20 |
| 22 | 23 | 24 | 25 | 26 | 27 |
| 29 | 30 | | | | |