Latest News
Latest News
Author of the month - June 2018 - Eve Ainsworth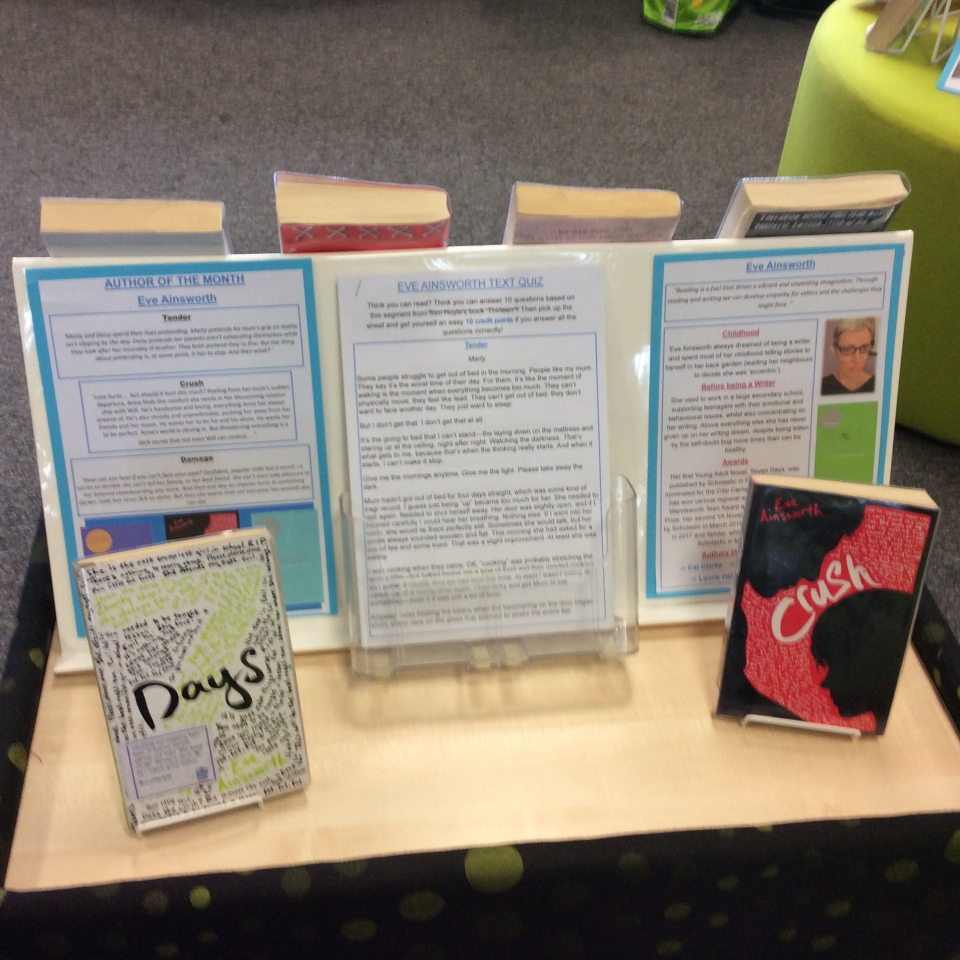 This months author is Eve Ainsworth. She is an incredible author who writes books which will push your emotions to the brink. She focus's on topics which many deem taboo like abusive relationships, self-harm and child carers. Eve creates relatable and diverse characters which you will fall in love with. If you fancy trying an emotional/thought-provoking book than Eve Ainsworth is the author for you.
You can also earn yourself 10 credit points by completing an Eve Ainsworth text quiz. Read through an extract of her novel, 'Tender', and answer the 10 questions on the back. Easy!
If you want to know more about Eve check out her display in the Learning Lounge.
Spotlight Book:
Damage
How can you heal if you can't face your past? Confident, popular Gabi has a secret - a secret so terrible she can't tell her family, or her best friend. She can't even take pleasure in her beloved skateboarding any more. And then one day an impulse turns to something darker. Gabi has never felt so alone. But then she learns that not everyone has wounds you can see.
Tender
Marty and Daisy spend their lives pretending. Marty pretends his mum's grip on reality isn't slipping by the day. Daisy pretends her parents aren't exhausting themselves while they look after her incurably ill brother. They both pretend they're fine. But the thing about pretending is, at some point, it has to stop. And then what?
Crush
Love hurts ... but should it hurt this much? Reeling from her mum's sudden departure, Anna finds the comfort she needs in her blossoming relationship with Will. He's handsome and loving, everything Anna has always dreamt of. He's also moody and unpredictable, pushing her away from her friends and her music. He wants her to be his and his alone. He wants her to be perfect. Anna's world is closing in. But threatening everything is a dark secret that not even Will can control...
April 2019
| M | T | W | T | F | WE |
| --- | --- | --- | --- | --- | --- |
| 1 | 2 | 3 | 4 | 5 | 6 |
| 8 | 9 | 10 | 11 | 12 | 13 |
| 15 | 16 | 17 | 18 | 19 | 20 |
| 22 | 23 | 24 | 25 | 26 | 27 |
| 29 | 30 | | | | |