Latest News
Latest News
A-Level Results Day 2018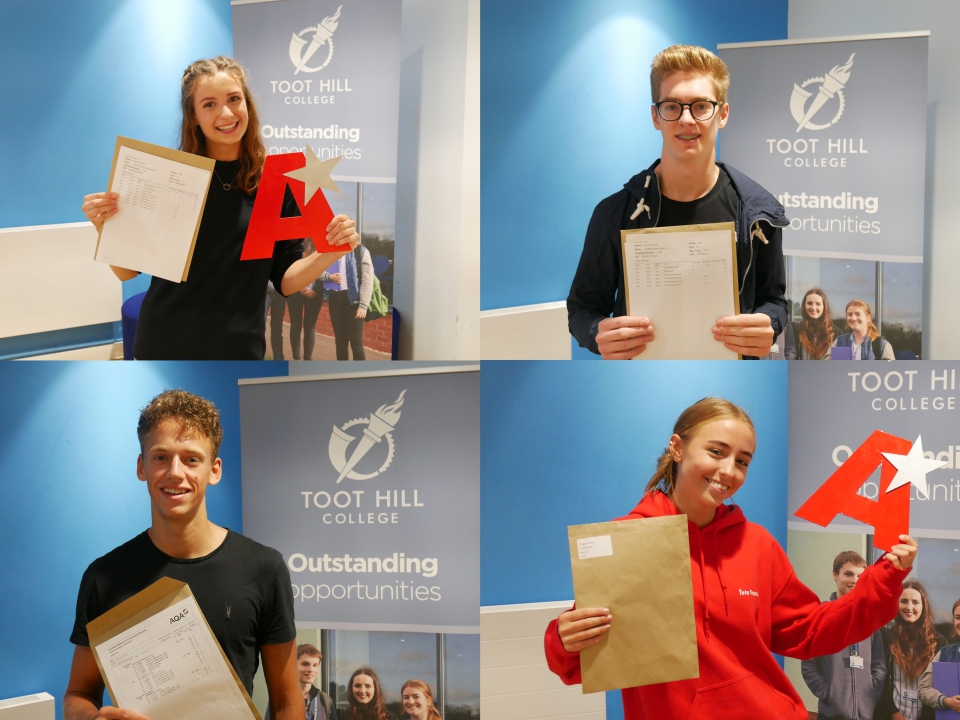 Staff, students and parents at Toot Hill College in Bingham were celebrating this morning after securing a fantastic set of A-Level results.
This year's results produced the college's highest ever student progress score, once again placing the college in 'outstanding' for progress and attainment and in-line with the top category of colleges nationally.
The college is also proud to announce that an average grade B was achieved by its students on A-Level courses—firmly above the national average—and a Distinction (equivalent to a grade A) in vocational courses, plus a 100% pass rate for a sixth consecutive year.
Sandy Paley, Head of School, commented:
"I'm so proud that our staff and students have shown such resilience at a time of great change, as a full suite of new A-Levels have been completed for the first time. For students to have achieved more grade As and A*s than ever before—on more robust specifications—is a true testament to outstanding subject expertise, great teaching and learning and phenomenal work levels by students. A great team effort!"​
Toot Hill is pleased to report a significant increase in the number of students selecting two or more 'facilitating subjects' and achieving AAB or higher—the headline target for its most academically-able students. Amongst this year's highest achievers are:
Molly Frogson, who achieved two A* grades in Mathematics and Economics along with a grade A in Physics. Molly will be going on to study Economics at the University of Bristol.
Molly commented:
"I'm so surprised about my results! The exams were so much harder…I felt the pressure for Maths in particular, and I got a D in my Physics mock so to come out with an A in the real thing is just amazing!"
Matthew Baumber, who also achieved two A* grades in Chemistry and Mathematics, closely followed by a grade A Physics. Matthew will now be taking Mathematics to the next level at the University of Nottingham.
Matthew said:
"I'm so pleased with my results and I'm really looking forward to studying Maths at Nottingham next year."
Jenni Brown, who will be attending the University of Birmingham to study Chemical Engineering after achieving two A grades in Chemistry and Physics and an A* in Mathematics.
Jenni said:
"I had such a good set of teachers who gave so much support for the whole two years, which definitely played a big part in my results. I'd like to go into the food and drink industry in mass-scale production, something related to chemical engineering."
Jonathan Aldrich, who will also be studying Chemical Engineering at the University of Nottingham this September after leaving Toot Hill College with three grade As in Chemistry, Physics and Mathematics.
Jonathan commented:
"I'm really buzzing about my results! I wasn't expecting them, to be honest. I had an unconditional offer anyway, but I definitely think that the offer made me work harder. I've had the best time at Toot Hill."
The college is equally delighted that students have achieved the top A/A* grades across a diverse range of its 26 A-Level courses on offer.
Megan Smith achieved an A* in the Government and Politics A-Level, alongside an A* in Geography and a B in Econmics and will be going to study International Relations and Politics at the University of Sheffield.
"I'm completely overwhelmed with my three grades! I'm so pleased it's set me up to be able to go to Sheffield to study International Relations, which is what I've wanted to do for years. I'm really thankful to all my teachers who have put in so much effort and work to help me get these grades," Megan said.
The college also offers congratulations to Aleksandr Ushakov for achieving a grade A in his Russian A-Level, along with a grade A in Geography, a B in History and a B in Psychology. Lancaster University will be welcoming Aleksandr in September to study Business Administration.
In addition, Toot Hill College is also proud of all its students that achieved highly on the new, more rigorous Level 3 vocational qualifications, which now include examinations and greater coursework demands.
Congratulations also to Ben Pacey, who achieved a double Distinction in BTEC Applied Science and a Distinction in Business. Martin McNee secured a double Distinction in BTEC Sport along with a Distinction in Business. Martin plans to either join the RAF as a fire-fighter or enter the Navy as an apprentice engineer.
"Toot Hill is great—I've made so many friends here, and the teachers really encourage to work hard and do your best," he said.
Sarah Fox, Head of College, added:
"I am delighted that our students' results this summer reflect the progress they have made across all our courses at Toot Hill College. Congratulations to all our students on a truly outstanding set of results."
Toot Hill College also wishes the very best of luck to Sam Wilson, who has been working at the college this year to mentor and support Year 13 students in Physics, Mathematics and Chemistry.
Sam completed his A-Levels at Toot Hill in 2017, securing three A* grades in the subjects he has been mentoring. In addition to mentoring Year 13 students, Sam has also completed a fourth A-Level in Further Mathematics this year, in which he secured another A*.
Sam commented:
"I could never have expected to do so well! I've had a great year working here, helping the other students and I really hope I made a difference. It was such a great opportunity to actually work at Toot Hill to provide support to the students and also take my fourth A-Level at the same time."
Having deferred his unconditional place at the University of Birmingham last year, Sam successfully reapplied to St Peter's College, University of Oxford, where he will be studying Physics from October this year.​​
September 2018
| M | T | W | T | F | WE |
| --- | --- | --- | --- | --- | --- |
| | | | | | 1 |
| 3 | 4 | 5 | 6 | 7 | 8 |
| 10 | 11 | 12 | 13 | 14 | 15 |
| 17 | 18 | 19 | 20 | 21 | 22 |
| 24 | 25 | 26 | 27 | 28 | 29 |