Latest News
Latest News
Nine 9s each for two Toot Hill GCSE students!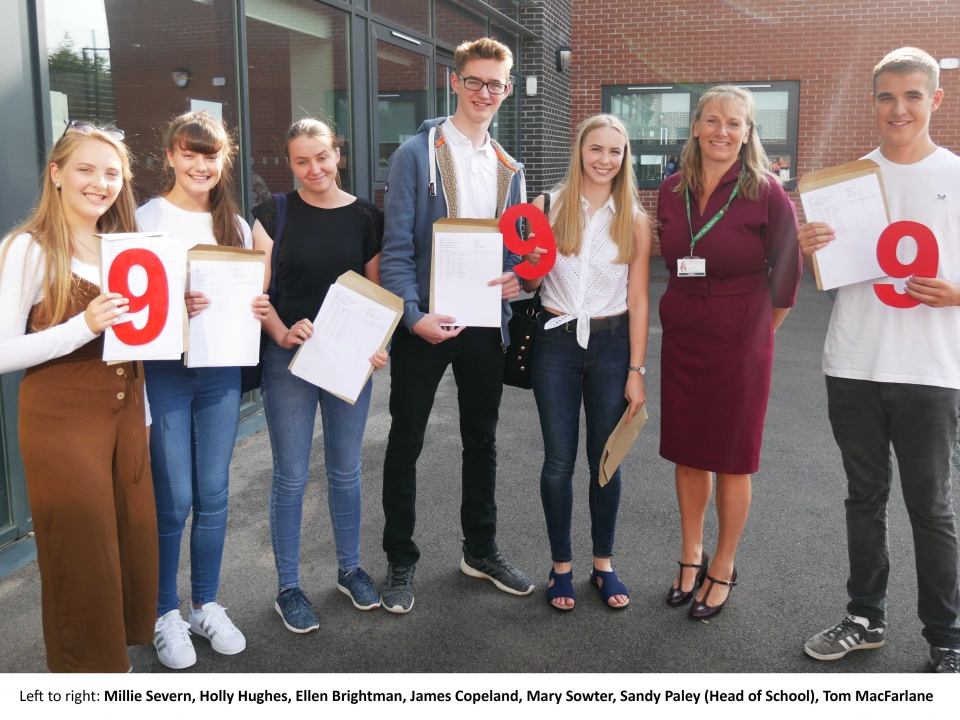 Toot Hill School's Year 11 students were celebrating this morning having achieved phenomenal results in the new-style GCSEs.
Initial headline figures show as:
Grade 5 and above in English and Mathematics: 65%
Grade 4 and above in English and Mathematics: 84%
Average Grade: B
Sandy Paley, Head of School, commented:
"This year's GCSE season was the toughest I have seen in the 19 years I have taught at this school. Our students showed immense resilience, trust in their teachers and high levels of commitment as they prepared for a much busier four-week exam period, with harder and longer examinations for the new suite of examinations.

Staff have had to trust their professional expertise, whilst interpreting new specifications in order to best prepare our students. This combination has ensured another outstanding set of results for the students of Toot Hill School, with 91% of securing a pass in English and 86% in Maths. On average, across all subject areas, a third of students achieved grade 7 (old A), grade 8(old A*) or the new grade 9—a true testament to high aspiration and high quality teaching and learning."
Ash Rahman, Executive Head Teacher, added:
"Toot Hill continues to deliver high academic outcomes year on year. Congratulations to all our students and thank you to all members of the school community."
Grade 9s are the new top GCSE grade and are only awarded to the top 10% of the old A* grade. It was estimated that only 0.2% of pupils nationally will be capable of achieving grade 9s across their GCSEs. Toot Hill School is delighted to share stories of some of its exceptional students.
Tom MacFarlane and Holly Hughes both received an astonishing nine grade 9s each.
Tom had to say: "I'm over the Moon with my results. It's a great reward for all the hard work I put in over the last three years. I think it's also testament to the great teachers that Toot Hill has—there's been a lot of uncertainty over the new exams, but they've worked really hard to get us through the new specifications."
Holly said: "I'm so shocked that I got nine 9s! I wasn't expecting it. I can only put it down to a lot of hard work and great support from my family and teachers."
Both Tom and Holly will be staying on at Toot Hill College. Holly will be studying A-Levels in Maths, Chemistry and Biology and has aspirations to become a vet, and Tom will be studying A-Levels in Maths Physics and Geography.
Ellen Brightman achieved the highest grade 9 grade possible in Mathematics and managed to secure 100% in all three of her Mathematics exams (higher tier) securing her one of the highest results in the country. Alongside this amazing achievement Ellen also achieved a further seven grade 9s, two grade 8s and two A* grades (in subjects yet to move to the new specification).
Ellen said: "I can't believe it! I'm SO pleased with my Maths result. To get one of the highest Maths results in the country is just amazing."
Ellen plans to take her Maths to the next level by studying Mathematics and Further Mathematics at Toot Hill College in September.
Mary Sowter fell seriously ill with severe Sepsis in the months before taking her GCSE exams. Mary was hospitalised in the middle of her exams and missed months of school and her mock exams as a result.
Despite this, Mary managed to defy all expectations and secure six grade 9s, three grade 8s, a grade 7 and a grade A.
"There was one time I went straight from one of my exams to A & E. I'm so pleased I managed to get the grades I did, having not been able to put in the amount of revision," Mary said.
Sam Caven Atak has spent the whole of Key Stage 4 struggling with the effects of severe Chronic Fatigue Syndrome and a number of other medical conditions. Sam has been unable to maintain a typical sleep pattern and has suffered deliberating symptoms including brain fog, severe migraines and lethargy. He has missed a considerable amount of teaching time in school over the last three years, especially in Year 11. Sam kept in contact with his teachers and was able to complete work at home when he was well enough to do so.
To ensure that Sam had the opportunity to achieve his full potential, staff at Toot Hill School worked closely with exam boards and regulators to organise an alternative timetable for Sam, enabling him to complete his exams from 4.00pm in the afternoon and also on Saturdays. As a result, Sam was able to achieve three grade 8s and three grade 7s.
Sam was unable to collect his results in person today due to his condition, but he sent the following quote:
"I was unwell for the whole period of study leading up to my exams, so most of my time was spent at home. The teachers at Toot Hill were very understanding—I wouldn't have been able to do the exams without their persistence."
Other achievers include James Copeland, Millie Severn and Evan Foster. James secured six grade 9s and five grade 8s; Millie seven grade 9s, two grade 8s and a grade 7; and Evan three grade 9s, four grade 8s along with two grade 7s, a grade 6 and a grade 5.
Millie said: "I'm really, really happy with my results as I thought I didn't do that well in some of my exams. I'm so happy to be recognised for it and I'm really thankful to all my teachers."
James commented: "Two 9s in English is really quite surprising! I'm really happy with myself!"
June 2019
| M | T | W | T | F | WE |
| --- | --- | --- | --- | --- | --- |
| | | | | | 1 |
| 3 | 4 | 5 | 6 | 7 | 8 |
| 10 | 11 | 12 | 13 | 14 | 15 |
| 17 | 18 | 19 | 20 | 21 | 22 |
| 24 | 25 | 26 | 27 | 28 | 29 |