Latest News
Latest News
New November Display - 2018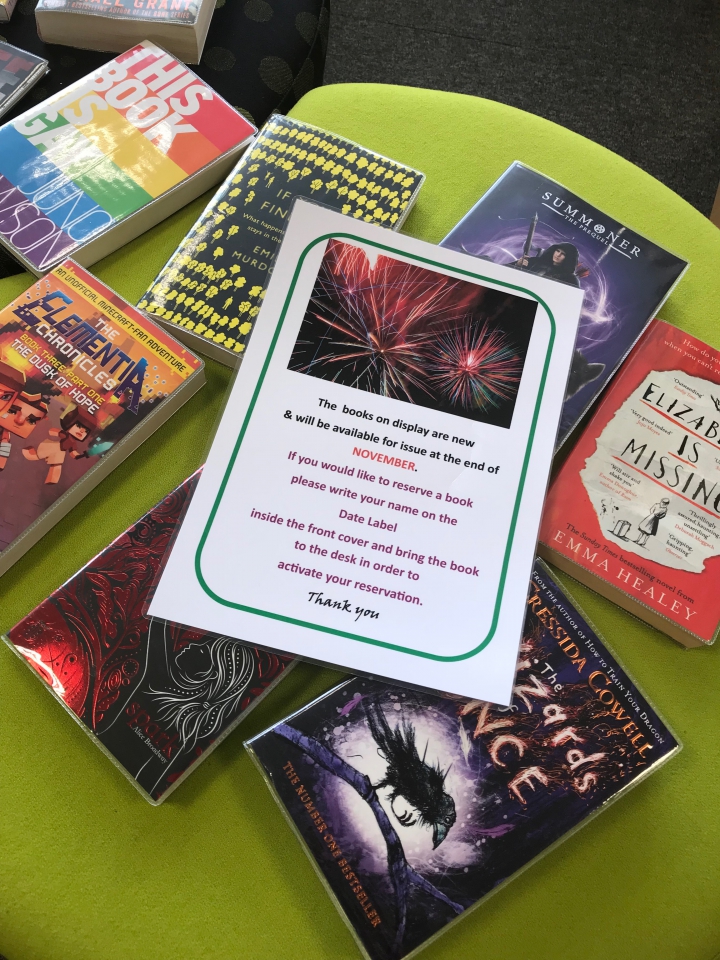 New month, new books!
All new solo books including 'Mike', 'Knife's Edge' and 'Elizabeth is missing'
Books that follow on from your favourite series, introducing: 'Leah on the off beat', 'Spark' and 'Elementia Chronicles: The dusk of hope".
Brand new Manga: 'Assassination Classroom'
Great new non-fiction books; learn some new tricks in 'Fortnite Battle Royale' and '100 Awesome hair days.'
Where will November's book display take you?
Spotlight Books:
Mike by Andrew Norriss
MEET FLOYD. He's a tennis star. Possibly even good enough to win Wimbledon one day. MEET MIKE. He's . . . different. Apart from anything else, Floyd seems to be the only one who can see him. But Mike must have appeared for a reason and finding out why is perhaps the most important thing Floyd will ever do . . .
Riot by Sarah Mussi
England is struggling under a recession that has shown no sign of abating. Years of cuts has devastated Britain: banks are going under, businesses closing, prices soaring, unemployment rising, prisons overflowing. The authorities cannot cope. And the population has maxed out.


The police are snowed under. Something has to give. Drastic measures need taking.
The solution: forced sterilisation of all school leavers without secure further education plans or guaranteed employment.
Front Lines by Michael Grant
It's WWII, but not as you remember it from history lessons! This time the girls aren't stitching socks for the brave boys at the front. Meet 17-year-old Rio Richlin and her friends Frangie Marr and Rainy Schulterman, three of the newest recruits in the US Armed Forces. They stand shoulder to shoulder with the boys from home as they take on Hitler's army.
April 2019
| M | T | W | T | F | WE |
| --- | --- | --- | --- | --- | --- |
| 1 | 2 | 3 | 4 | 5 | 6 |
| 8 | 9 | 10 | 11 | 12 | 13 |
| 15 | 16 | 17 | 18 | 19 | 20 |
| 22 | 23 | 24 | 25 | 26 | 27 |
| 29 | 30 | | | | |