From Monday 23rd March, until further notice, Toot Hill School will only be open for children of key workers and vulnerable groups. Registration links are available on the
home page
.
Latest News
Latest News
New June Display - 2019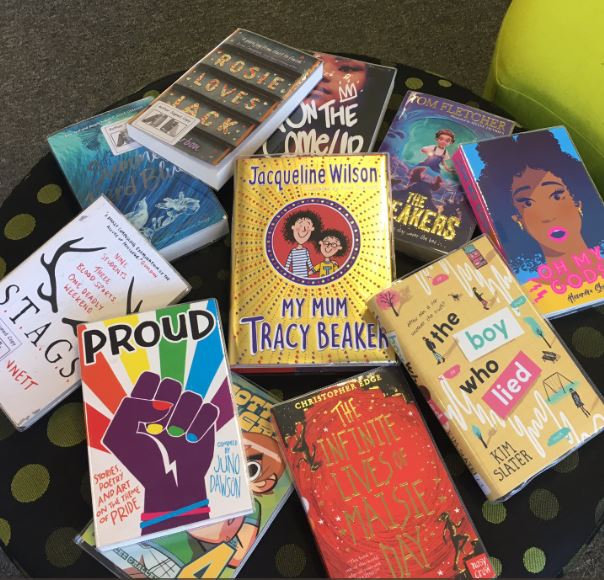 New year, new month, new books!
All new solo books including 'Rosie Loves Jack', 'The Boy Who Lied' , 'Oh My Gods'
Books that follow on from your favourite series, introducing: 'World's Worst Children 3' , 'Extinction Trials: Exile' and 'Skulduggery Pleasant: Resurrection.'
Brand new Graphic Novel: 'Scott Pilgram Vol 4'
Engaging non-fiction books to sit down with: 'How to argue with a cat', 'Real Life Mysteries' and 'How to be a Young #Writer.'
Where will June's book display take you?
Spotlight Books:
Oh My Gods by Alexandra Sheppard
She's just moved in with her dorky dad and self-absorbed older siblings - who happen to be the ancient Greek gods, living incognito in London!

Between keeping her family's true identities secret, trying to impress her new friends, and meeting an actually cute boy, Helen's stress levels are higher than Mount Olympus.

She needs to rein in her chaotic family before they blow their cover AND her chances at a half-normal social life.

Or is Helen fated for an embarrassment of mythical proportions?
The Boy who Lied by Kim Slater
Ed Clayton is a liar. It started when his dad went to prison and now he can't seem to stop. When his younger brother, Sam, goes missing one day, nobody believes Ed when he says he can't remember what happened.

He's used to going without, but living without his brother is impossible. With the police and press asking questions and friends turning against the family, Ed is left trying to find Sam with only the help of his new neighbour, Fallon.

When the two stumble on a secret that even Ed could never have imagined, it's up to the liar to uncover the truth . . .
The Infinite Lives of Maisie Day by Christopher Edge
How do you know you really exist? It's Maisie's birthday and she can't wait to open her presents. She's hoping for the things she needs to build her own nuclear reactor. But she wakes to an empty house and outside the front door is nothing but a terrifying, all-consuming blackness. Trapped in an ever-shifting reality, Maisie knows that she will have to use the laws of the universe and the love of her family to survive. And even that might not be enough... A mind-bending mystery for anyone who's ever asked questions.
May 2020
| M | T | W | T | F | WE |
| --- | --- | --- | --- | --- | --- |
| | | | | 1 | 2 |
| 4 | 5 | 6 | 7 | 8 | 9 |
| 11 | 12 | 13 | 14 | 15 | 16 |
| 18 | 19 | 20 | 21 | 22 | 23 |
| 25 | 26 | 27 | 28 | 29 | 30 |