From Monday 23rd March, until further notice, Toot Hill School will only be open for children of key workers and vulnerable groups. Registration links are available on the
home page
.
Latest News
Latest News
Simon James Green visits the Learning Lounge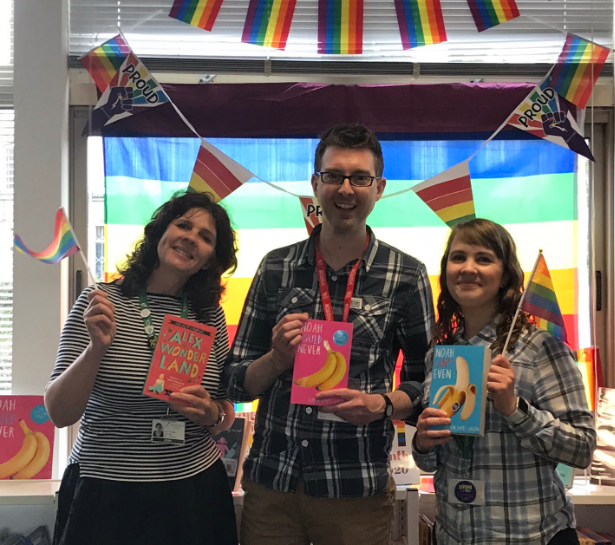 On Tuesday the 4th of February, Toot Hill's Learning Lounge were lucky enough to welcome Simon James Green through their doors. Simon James Green is the author of 'Noah can't even' and 'Alex in Wonderland'. Both books are comedies involving LGBTQ+ teens.
Simon ran a creating a character workshop where students had to build their character through acting. They had to ask themselves questions like; how would my character act if they were stood at a bus stop? Through these exercises students became their characters and wrote the beginnings of a story. Simon then signed books and did an interview for Toot Hill's News Team.
If you missed Simon's visit you can borrow his books from the Learning Lounge or listen to the podcast Lounging With Books where he was interviewed by our students -> https://www.podomatic.com/podcasts/loungingwithbooks/episodes/2020-02-06T02_41_41-08_00
Noah Can't Even by Simon James Green
Poor Noah Grimes! His father disappeared years ago, his mother's Beyoncé tribute act is an unacceptable embarrassment, and his beloved gran is no longer herself. He only has one friend, Harry, and school is... Well, it's pure hell. Why can't Noah be normal, like everyone else at school? Maybe if he struck up a romantic relationship with someone - maybe Sophie, who is perfect and lovely - he'd be seen in a different light? But Noah's plans are derailed when Harry kisses him at a party. That's when things go from bad to utter chaos.
April 2020
| M | T | W | T | F | WE |
| --- | --- | --- | --- | --- | --- |
| | | 1 | 2 | 3 | 4 |
| 6 | 7 | 8 | 9 | 10 | 11 |
| 13 | 14 | 15 | 16 | 17 | 18 |
| 20 | 21 | 22 | 23 | 24 | 25 |
| 27 | 28 | 29 | 30 | | |