Latest News
Latest News
New October Display - 2020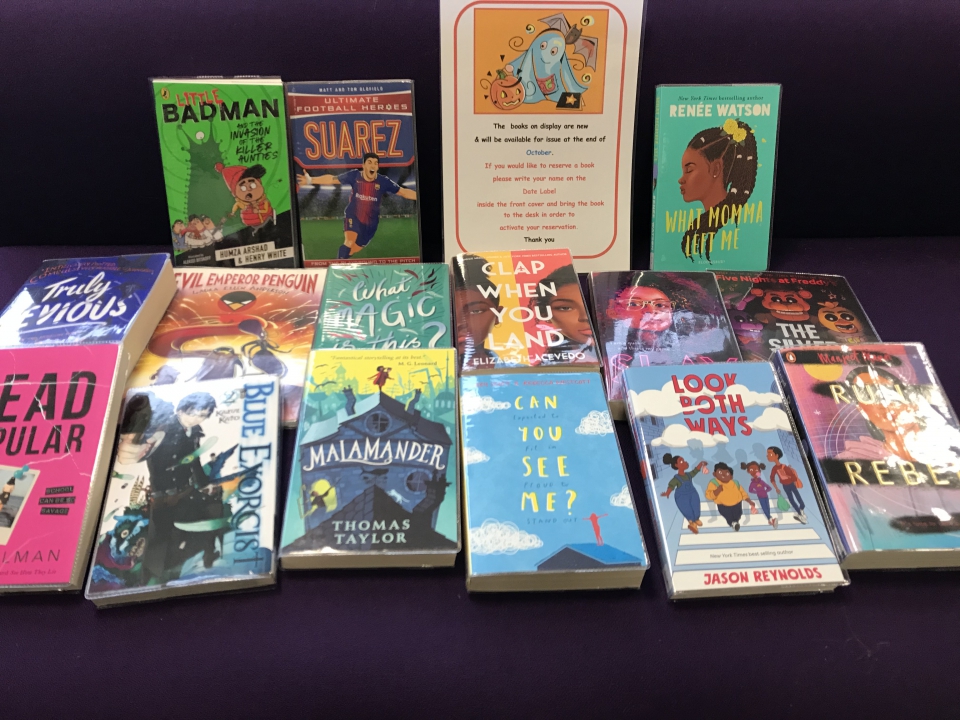 We have loads of new books available for all year groups to enjoy.
All new solo books including 'Dead Popular', 'What Momma Left Me' , 'Clap When you Land', 'Nowhere on Earth', 'Malamander' +
Books that follow on from your favourite series, introducing: 'Five Nights at Freddy's Fazbear Frights' , 'Hello Neighbour Bad Blood', 'Skulduggery Pleasant Midnight'
Great Fiction Quick Reads; 'What Magic is this?', 'Virus', 'Global Blackout', 'Suarez' and 'Bernard Dunne Champion of the World'
Brand new Graphic Novels & Manga: 'Blue Exorcist Volume 2' and 'Five Nights at Freddy's Silver Eyes'
Learn more with our new non-fiction: 'Stephen Hawkings Life Story' and 'Game On 2020'
Don't forget you can see a list of all our new display books on Eclipse. Simply log on and check out the Reading List tab!
Where will Octobers's display take you?
Spotlight Books:
'SLAY' by Brittney Morris
By day, seventeen-year-old Kiera Johnson is a college student, and one of the only black kids at Jefferson Academy. By night, she joins hundreds of thousands of black gamers who duel worldwide in the secret online role-playing card game, SLAY.

No one knows Kiera is the game developer - not even her boyfriend, Malcolm. But when a teen in Kansas City is murdered over a dispute in the SLAY world, the media labels it an exclusionist, racist hub for thugs.

With threats coming from both inside and outside the game, Kiera must fight to save the safe space she's created. But can she protect SLAY without losing herself?
'What Magic is this?' by Holly Bourne
Sophia, Mia and Alexis are clinging on to a spark of hope that maybe - just maybe - they're special. But could they really be witches with the power to cast life-changing spells? When the three friends gather to cheer up heartbroken Sophia, they're ready to put their theory to the test. But when long-held secrets are revealed and hard truths start to hit home, their night of bewitching quickly takes an unexpected turn
'Little Badman and the Invasion of the Killer Aunties' by Henry White and Humza Arshad
"You've probably heard of me, right? Little Badman. No? Oh. Well. . . Doesn't matter. You will do one day. I'm gonna be big."

I'm Humza Khan, the greatest eleven-year-old rapper Eggington has ever known; soon everyone will know my name.

Only problem is school has got really weird, man. All my teachers are disappearing and our aunties are taking over.

It wasn't too bad at the start, they keep feeding us delicious snacks. Like, all the time.

But now these aunties are trying to mess with my music, so me and my best friends Umer and Wendy are going to hunt for the truth. Cos something big and bad is going on and we won't let anything mess with my music... or you know, the world.
April 2021
| M | T | W | T | F | WE |
| --- | --- | --- | --- | --- | --- |
| | | | 1 | 2 | 3 |
| 5 | 6 | 7 | 8 | 9 | 10 |
| 12 | 13 | 14 | 15 | 16 | 17 |
| 19 | 20 | 21 | 22 | 23 | 24 |
| 26 | 27 | 28 | 29 | 30 | |