Latest News
Latest News
New November Display - 2020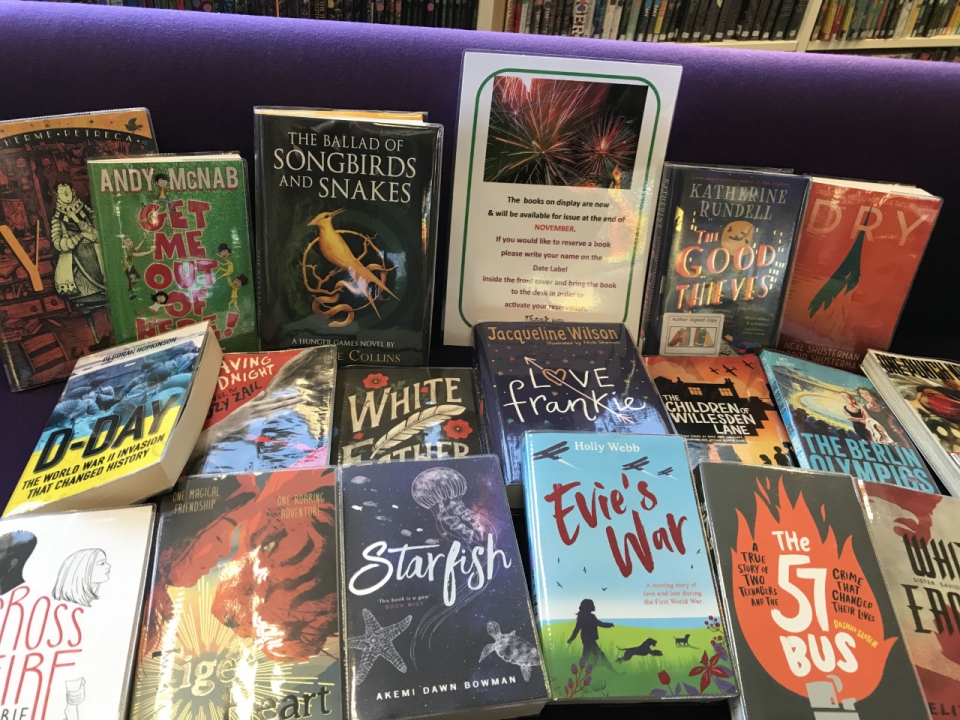 We have loads of new books available for all year groups to enjoy.
All new solo books including 'Dry', 'Love Frankie' , 'The 57 Bus', 'Get me out of here', 'Children of Willesden Lane' +
Books that follow on from your favourite series, introducing: 'Hunger Games Prequel: The Ballad of Songbirds & Snakes' , 'Brightstorm: Dark Whispers', 'Noughts & Crosses: Crossfire', 'Gemini Force: White Storm', 'Children of Virtue and Vengeance' and 'Riverdale: Get out of Town'
Great Fiction Quick Reads; 'White Feather', 'Berlin Olympics', 'White Eagles', 'Mbappe' and '1918'
Brand new Graphic Novels & Manga: 'One Punch Man', 'Yue', 'assassination Classroom Volume 4', 'Fantastic Four:Civil War' and 'Deathnote Volume 6'
Don't forget you can see a list of all our new display books on Eclipse. Simply log on and check out the Reading List tab!
Where will November's display take you?
Spotlight Books:
'Love Frankie' by Jacqueline Wilson
Frankie is nearly fourteen and teenage life certainly comes with its ups and downs. Her mum is seriously ill with MS and Frankie can feel herself growing up quickly, no thanks to Sally and her gang of bullies at school.

When Sally turns out to be not-so-mean after all, they strike up a friendship and are suddenly spending all of their time together.

But Frankie starts to wonder whether these feelings she has for Sally are stronger than her other friendships. Might she really be in love?

Frankie doesn't want Sally to just be her friend. She wants her to be her girlfriend. But does Sally feel the same?
'White Feather?' by Catherine and David Macphail
Sophia, Mia and Alexis are clinging on to a spark of hope that maybe - just maybe - they're special. But could they really be witches with the power to cast life-changing spells? When the three friends gather to cheer up heartbroken Sophia, they're ready to put their theory to the test. But when long-held secrets are revealed and hard truths start to hit home, their night of bewitching quickly takes an unexpected turn
'Children of Willesden Lane' by Mona Golabek
The inspirational story of Lisa Jura's escape from Nazi-controlled Austria to England on the famed Kindertransport

Fourteen-year-old Lisa Jura was a musical prodigy who hoped to become a concert pianist. But when Hitler's armies advanced on pre-war Vienna, Lisa's parents were forced to make a difficult decision. Able to secure passage for only one of their three daughters through the Kindertransport, they chose to send gifted Lisa to London for safety.

As she yearned to be reunited with her family while she lived in a home for refugee children on Willesden Lane, Lisa's music became a beacon of hope. A memoir of courage, survival, and the power of music to uplift the human spirit, this compelling tribute to one special young woman and the lives she touched will both educate and inspire young readers.
April 2021
| M | T | W | T | F | WE |
| --- | --- | --- | --- | --- | --- |
| | | | 1 | 2 | 3 |
| 5 | 6 | 7 | 8 | 9 | 10 |
| 12 | 13 | 14 | 15 | 16 | 17 |
| 19 | 20 | 21 | 22 | 23 | 24 |
| 26 | 27 | 28 | 29 | 30 | |