Latest News
Latest News
New May Display - 2021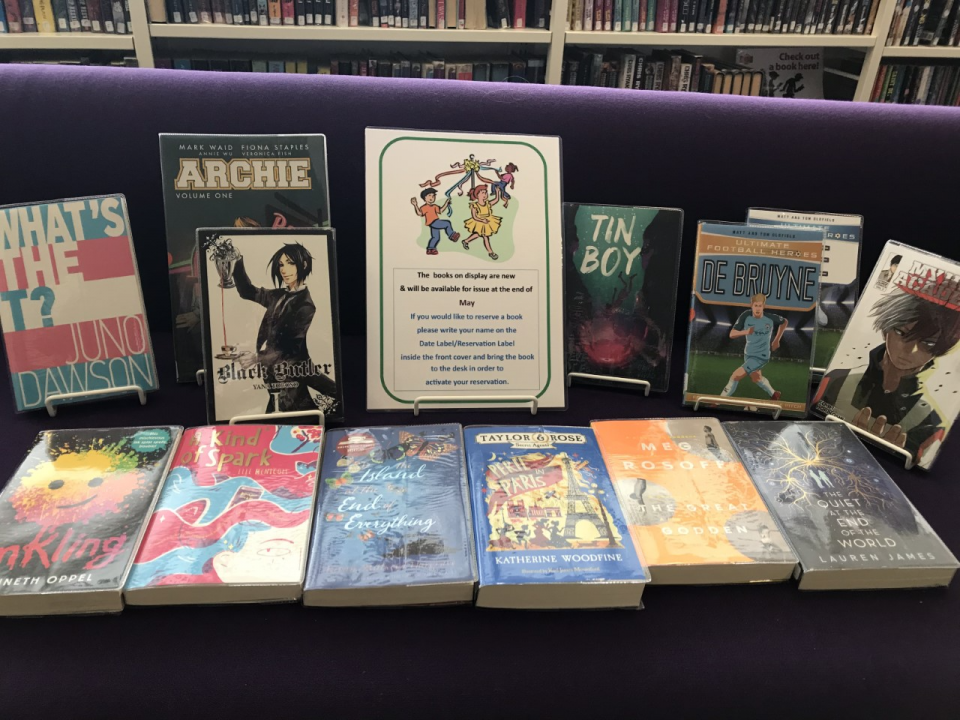 We have loads of new books available for all year groups to enjoy.
All new solo books including 'The Great Godden', 'A Kind of Spark' , 'Trapped in a Video Game', 'Inkling', 'Checkmates', 'The World's Worst Teachers' +
Books that follow on from your favourite series, introducing: 'ZOM-B: Goddess', 'Wolf Brother: Viper's Daughter', 'Taylor & Rose: Peril in Paris' and 'Boywatching: Up Close'
Great Fiction Quick Reads; 'Seven Ghosts', 'Ultimate Football Heroes: Bale', 'House of Clouds' and 'Tin Boy'.
Brand new Graphic Novels & Manga: 'My Hero Academia Vol 5', 'Archie Vol 1', 'Black Butler Vol 1' and 'Baby-Sitters Club'.
Educational Non-Fiction: 'What the T?', 'Football School Season 3', 'The Awesome Power of Sleep' and 'Business for Beginners'
Don't forget you can see a list of all our new display books on Eclipse. Simply log on and check out the Reading List tab!
Where will Mays display take you?
Spotlight Books:
'Checkmates' by Stewart Foster
People think that I'm a problem child, that I'm lazy and never pay attention in lessons. But the thing is, I'm not a problem child at all. I'm just a child with a problem. Felix is struggling at school. His ADHD makes it hard for him to concentrate and his grades are slipping. Everyone keeps telling him to try harder, but no one seems to understand just how hard he finds it. When Mum suggests Felix spends time with his grandfather, Felix can't think of anything worse. Granddad hasn't been the same since Grandma died.

Plus he's always trying to teach Felix boring chess. But sometimes the best lessons come in the most unexpected of places, and Granddad soon shows Felix that there's everything to play for.
'A Kind of Spark' by Elle McNicoll
A Kind of Spark tells the story of 11-year-old Addie as she campaigns for a memorial in memory of the witch trials that took place in her Scottish hometown. Addie knows there's more to the story of these 'witches', just like there is more to hers. Can Addie challenge how the people in her town see her, and her autism, and make her voice heard?
'Tin Boy' by Steve Cole
Mining in dangerous trenches and working to exhaustion each day is the only life that Tono has ever known. But a terrifying accident and a strange encounter will soon change his life forever... The true cost of tin is revealed in this striking and gripping story.
October 2021
| M | T | W | T | F | WE |
| --- | --- | --- | --- | --- | --- |
| | | | | 1 | 2 |
| 4 | 5 | 6 | 7 | 8 | 9 |
| 11 | 12 | 13 | 14 | 15 | 16 |
| 18 | 19 | 20 | 21 | 22 | 23 |
| 25 | 26 | 27 | 28 | 29 | 30 |